The market value of Guyana's oil fund is nearly three-quarter billion US dollars.
According to the Guyana Central Bank's 2022 first-quarter report for the Natural Resource Fund (NRF), the market value of the Fund at March 31, 2022 stood at GY$150.08 billion (US$719.81 million), an increase of 18.46% (G$23.38 billion/US$112.17 million) from the previous quarter.
Inflows into the account amounted to GY$23.35 billion (US$112.02 million). Of this amount, profit oil totaled GY$20 billion (US$95.93 million) while royalties were GY$3.35 billion (US$16.09 million). These funds were deposited into the Natural Resource Fund Account held at the Federal Reserve Bank of New York.
Since its inception and up to the end of the first quarter, Central Bank said the Fund received GY$133.13 billion (US$638.52 million) from 10 lifts of profit oil and GY$16.88 billion (US$81.01 million) from royalties.
In March 2022, the Federal Reserve increased its target range for the federal funds rate from 0% – 0.25% to 0.25% – 0.5%. As a result, the interest rate on overnight deposits was increased, and the Fund was able to earn a higher level of interest income on its overnight deposits.
Finally, the Fund recorded a profit of GY$31.57 million (US$151,412.05) this quarter solely due to interest earned on deposits, compared to GY$13.72 million (US$65,823.49) in the previous quarter. This resulted in a return of 0.021% for the quarter compared with 0.012% in the previous quarter. The fund also earned an annualised return of 0.03% since its inception.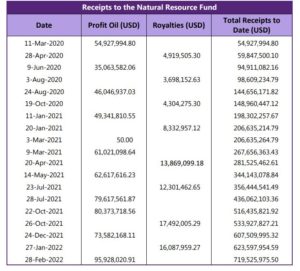 The value of the Fund will grow much more by the end of the second quarter.
In this quarter, Senior Finance Minister Dr. Ashni Singh announced that Guyana made the first ever withdrawal of the Fund: US$200 million of the US$607 million approved by Parliament in February to support Guyana's budget for the 2022 fiscal year. But with the Liza Phase Two project ramping up, hundreds of millions more will flow into the Fund, along with the revenues from Liza Phase One.
The Natural Resource Fund was formed by the enactment of the Natural Resource Fund Act 2019 which was passed in the National Assembly on January 3, 2019 and assented to by the President on January 23, 2019. This act was subsequently replaced with the Natural Resource Fund Act 2021 which was passed in the National Assembly on December 29, 2021 and assented to by the President on December 30, 2021. The Act gives the Bank of Guyana the responsibility for the operational management of the Fund.
President Dr. Mohamed Irfaan Ali appointed a board of directors to manage the fund, in March.