Guyana's Environmental Protection Agency (EPA) has teamed up with Maxar Technologies for the provision of environmental monitoring services for both offshore and terrestrial applications.
Executive Director, Kemraj Parsram said it falls under the Agency's updated mandate to modernise its operations to foster "next generation compliance" in Guyana's oil and gas industry.
Maxar's deal with the government through the EPA is significant, as it is the company's first for the Crow's Nest in Latin America and the Caribbean.
At a simple commemoration ceremony, it was explained that the EPA will receive daily satellite imagery intakes across Guyana through the SecureWatch platform, Vessel Alerts through the Crow's Nest Maritime solution, SAR oil spill detection services and change monitoring over specified areas of interest.
"The vision of the Agency is to be a modern, effective regulator that leverages the latest technology and science to serve the people of Guyana. With the help of cutting-edge solutions like those offered by MAXAR technologies, made possible through the government's commitment, we are now able to overcome the limitations of limited manpower and resources," the EPA head explained.
Real time technology will soon be used to monitor flaring, produced water – EPA Head | OilNOW
With this technology, Parsram said the need for on-site monitoring is diminished, as the Agency receives real-time updates from the production vessels.
"…and Guyana is well positioned to be a leader in environmental monitoring," he added.
"This approach now strengthens and supports our capacity building and bolstering our manpower to conduct physical in-person inspections and monitoring. Yes, we do physical inspections. I do not believe it's necessary to have 24/7 presence but rather intermittent and regular inspections," Parsram continued.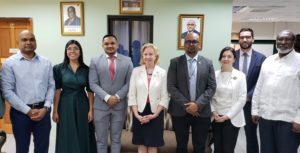 His sentiments were echoed by Maxar's representative, Tata Lacale, who also noted that this is also the first-time test of the product for the crucial task of monitoring offshore oil operations.
Guyana's Minister of Natural Resources, Vickram Bharrat noted that the addition of Maxar's technology will greatly aid the unprecedented pace of development seen with the country's oil sector.
But its is not only limited to oil and gas. According to the Minister, Maxar's three-year contract also includes provisions that will allow the Guyana Forestry Commission to utilise its technology to combat illegal deforestation, preserve mangroves, and protect the country's rich biodiversity.