Guyana's Ministry of Natural Resources has set for itself a rigorous agenda for 2018, ahead of first oil in 2020, and according to subject Minister Raphael Trotman, this includes the tabling of a suite of legislation for enactment, including the now renamed 'Natural Resources Fund'—before the end of April.
Mr. Trotman made the disclosure on Thursday at the Ministry's Brickdam Office, when he met with media operatives to update them on developments that took place 2017 and the Ministry's plans for 2018.
Initially touted as a Sovereign Wealth Fund (SWF)—meant to set aside a savings from Guyana's natural resources for future generations and human development—Mr. Trotman told media operatives he has seen the draft and that it has since been renamed the "Natural Resources Fund."
Mr. Trotman was quick to point out, however, though named 'Natural Resources,' as is the case with his Ministry, the legislation for the long awaited Fund will in fact be promulgated by Minister of Finance, Winston Jordan.
Asked to expand on some of the proposed provisions in the Natural Resources Fund Bill, Minister Trotman told media operatives, "Even though it carries the name of this Ministry, I believe that commenting on that would be for the Minister of Finance."
He qualified his position, saying it was Mr. Jordan's Ministry which would be piloting the legislation.
The Natural Resources Minister did indicate that, "it has been scrutinized by the Commonwealth Secretariat, it has been scrutinized by the International Monetary Fund, the World Bank and I believe the Inter-American Development Bank."
According to Mr. Trotman, Guyana's proposed 'Natural Resources Fund' would have received input from the various bodies as to how best to structure the facility.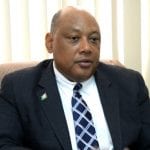 Mr. Trotman was unable to give a definitive timeline as to when the piece of legislation—bringing into being the Natural Resources Fund—would in fact be brought to the National Assembly, but said he is optimistic that the Bill would be tabled before the end of the first quarter (March 31).
Alluding to the other promised pieces of legislation for the Guyana legislators in 2018, Minister Trotman told media operatives, "we will table legislation including Environmental Regulations, Health and Safety Regulations, Petroleum taxation and fiscal legislation."
OilNOW  has since learnt that other critical pieces of legislative instruments and policy documents related to Guyana's Oil and Gas sector currently in draft format, includes: 'Revisions to the 1986 Petroleum Exploration & Production Act & Regulations; Oil and Gas Policy; Petroleum Commission Bill (Select Committee); Environmental Regulations; Health and Safety Regulations and Petroleum Taxation and Fiscal Legislation.
A number of activities are planned for the sector in 2018, according to Mr. Trotman who divulged too, that the Ministry will also continue to develop its upstream Oil and Gas policy with the aid of its international partners and countrywide consultations, set to begin next month.