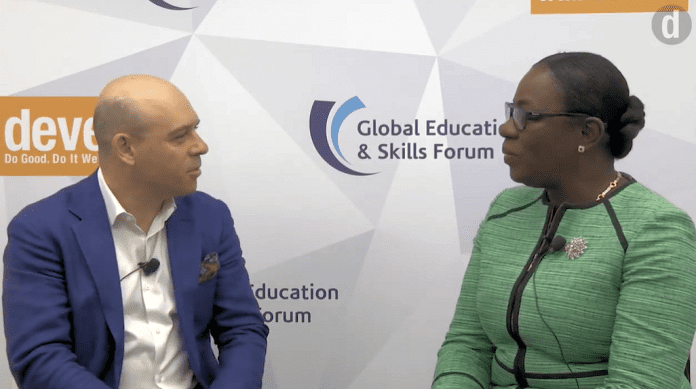 Guyana's Minister of Education Nicolette Henry said that her ministry is planning to introduce oil and gas into the school curriculum to ensure that the country is prepared for its new economic realities.
Speaking with Raj Kumar, President and Editor-in-Chief of Devex, during the Global Education & Skills Forum in Dubai from March 22-24, 2019, Henry said, "It is quite an interesting time in Guyana in terms of planning in the education sector."
She pointed out that the Education Ministry is pursuing two parallel tracks. "We are strengthening our local education programmes [to include] programmes in oil and gas that we did not have prior to this find, not only at the ground level [but at the tertiary and technical and vocational levels]," she said. In addition she said, "We are also supporting our young people with training opportunities outside of Guyana with institutions that have a good track record in training for oil and gas. We are trying our best to have the human resources to [manage] the resources of the country."
Asked by the interviewer what she was looking for in terms of assistance from the international development community, Education Minister said that she is seeking technical assistance and support for capacity building in Guyana's education sector in relation to oil and gas and other areas. She also cited the need to learn lessons from places such as Dubai with a similar experience to Guyana in terms of its oil fortunes and to look at what has worked and what has not.
The forum saw the presence of a number of ministers of education, teachers, civil society organisations, donor agencies and members of the media. According to its website, the Global Education & Skills Forum brings together world leaders from the public, private and social sectors and seeks solutions to achieve education, equity and employment for all.
Devex describes itself as a media platform for the global development community and a social enterprise that connects and informs 950,000+ development, health, humanitarian, and sustainability professionals through news, business intelligence, and funding and career opportunities.