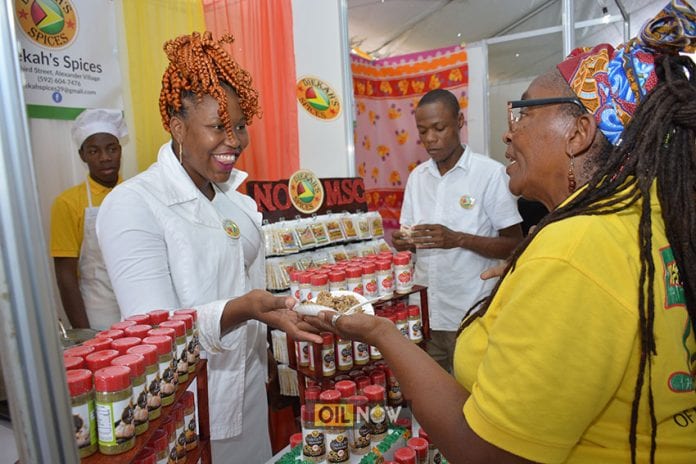 – ExxonMobil Guyana says support for small enterprise will continue 
The third edition of the Guyana Manufacturing and Services Association's (GMSA) UncappeD Marketplace – an event being held to promote agro-processors in Guyana – saw significant improvements being made in the areas of packaging and labeling. Guyanese Flavours UncappeD was launched in October 2017 at the Sophia Exhibition Complex in Georgetown and has since been followed by three 'marketplace' events; two at the Guyana National Stadium and one at the National Track and Field Centre, Leonora, West Coast Demerara.
Sunday's event at the National Stadium saw participation from 80 agro-processors and several supporting agencies as well as a farmers' market where an assortment of fresh fruits and vegetables were on sale.
ExxonMobil Guyana has been a key sponsor of UncappeD Marketplace and the company says support for initiatives that facilitate the growth and development of agro-processing and small business will continue.
Senior Director, Public and Government Affairs, Deedra Moe, said the company is pleased to be a part of yet another UncappeD event. Moe added that the company recognizes the important role that the agro-processing sector plays in the Guyanese economy and will continue to support activities that add value.
"We are glad to be able to play a part in supporting agro-processing and small businesses in Guyana. It's exciting to see the wonderful products and how businesses have developed over the last year."
GMSA's Vice President and event manager of UncappeD, Ramsey Ali, said the overall objective has been to improve the standards of agro-processors and help them build capacity to ultimately compete in the export market.
He explained to OilNow that, "From 2017 to now, we have seen significant improvements in the packaging, labeling and quality of products produced by the agro-processors."
This event, he noted, also presents an opportunity for the agro-processors to connect to a broader customer-base. "UncappeD Marketplace is about bringing them to a place where the Guyanese public can come and see what is available locally and more importantly, the monies earned from this event will help them to further promote and expand their businesses."
Guyana's Minister of Business, Dominic Gaskin, was also present at the event and told OilNOW that he is particularly pleased with the level of packaging of the products on display. "We have seen improvements in packaging. It is very attractive and if they can do it then others can do it. So, I would like to encourage other agro-processors to pay particular attention to the packaging of their products."
The Business Minister added, "This level of commitment tells me that persons are prepared to do whatever it takes to compete with imported products already on the market."
He noted also that there have been significant improvements over the years. "I am very pleased with not just the quality, but the improvements over the years and the fact that so many of them have their products in local supermarkets also speaks volumes of their commitment and dedication to the industry."
Other sponsors of the signature event include; Sterling Products Limited, Demerara Distillers Limited (DDL), Ministry of Business, Banks DIH, NAMILCO, Republic Bank (Guyana) Limited and John Fernandes Limited, with brand partners Sagacity Inc., National Communications Network and Star Party Rentals.