US President Donald Trump said Wednesday that he has ordered the Navy to "shoot down and destroy" any Iranian gunboats that harass U.S. ships, a directive that comes a week after the Navy reported a group of Iranian boats made "dangerous and harassing approaches" to American vessels in the Persian Gulf.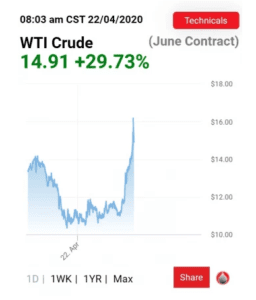 According to a report from ABC, Trump did not cite a specific event in his tweet or provide details. The White House had no immediate comment. The U.S. Navy's Bahrain-based 5th Fleet referred questions about the tweet to the Pentagon, and the Pentagon referred questions to the White House.
Oil prices were rallying again after Trump's tweet. While this may have distracted the market for a bit, markets are bracing for a very bearish EIA crude inventory report, which analysts believe could become the largest crude inventory build on record, Oil Price reported Wednesday.
Shortly before Trump's tweet, Iran's Revolutionary Guard said it had put the Islamic Republic's first military satellite into orbit, dramatically unveiling what experts described as a secret space program. That launch raised concerns among experts about whether the technology could be used to help Iran develop intercontinental ballistic missiles. Iran currently has short- and intermediate-range missiles.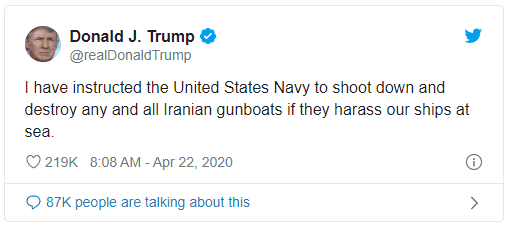 Gen. Abolfazl Shekarchi, a spokesman for Iran's armed forces, accused Trump of "bullying" and said the American president should focus on taking care of U.S service members infected with the coronavirus. The U.S. military had more than 2,600 confirmed cases of coronavirus as of last week, and at least two service members have succumbed to COVID-19, the disease the virus causes.
"Today, Americans must do their best to save those troops who are infected with coronavirus instead of bullying others," Shekarchi said, according to Iran's semi-official news agency ISNA.
U.S. Navy ships and Iranian Guard naval vessels occasionally have encounters in the Gulf that the U.S. calls unprofessional, but they rarely escalate or include an exchange of gunfire. Tehran views the heavy presence of American forces there as a security threat.
"I have instructed the United States Navy to shoot down and destroy any and all Iranian gunboats if they harass our ships at sea," Trump said in his tweet.
Last Wednesday, the U.S. Navy said Revolutionary Guard vessels repeatedly crossed the bows and sterns of several American ships at close range and high speed in the northern Gulf. The American vessels included the USS Paul Hamilton, a Navy destroyer and the USS Lewis B. Puller, a ship that serves as an afloat landing base. The ships were operating with U.S. Army Apache attack helicopters in international waters, the statement said.