The price for oil on the global market rose on Tuesday to an almost 1-month high with Brent futures increasing by US$1.05, or 2 percent, settling at US$54.17 per barrel.
This increase comes on the heels of an unplanned production outage in the North Sea and expectations of a drawdown in U.S. crude and product inventories.
In the North Sea, production of crude oil from Britain's 180,000 barrel per day Buzzard field was temporarily halted while repair work is carried out at an onshore processing terminal, trading sources said; noting normal output should be restored in the coming day or two, according to a RIGZONE report.
Higher prices for oil through 2020, when production is expected to begin in Guyana – newcomer to the oil and gas sector, would bode well for the South American country.
Oil companies have explored just three of roughly 20 potential fields offshore Guyana to date, leading experts to conclude that the volume of recoverable oil could be huge, by global standards.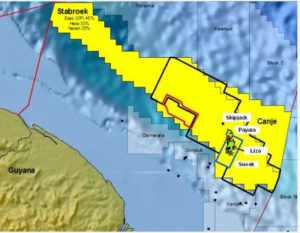 Preliminary estimates by experts in the industry point to a potential range of more than 4 billion barrels of recoverable oil in the Stabroek Block, located 120 miles offshore Guyana. At today's prices, this would worth well over US$200 billion.
This significant find has seen major international players in the industry flocking to Guyana, which was evident at a recently concluded Oil and Gas Conference and Exposition held at the Guyana Marriott Hotel; the first event of its kind to be staged in the country.
A number of international companies participated in the signature event organized by the Guyana Oil & Gas Association (GOGA). These include; Halliburton, INTECSEA, Bristow, GE, Arthur lok jack, among others.
In delivering remarks at the conclusion of the event, GOGA's Chief Executive Officer, Bobby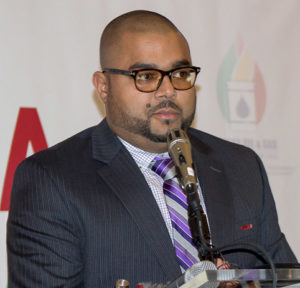 Gossai Jr. said feedback from the many local and international companies that participated point to a successful event.  "We know you took a risk, but we also know that you are happy with the agenda that was set for the forum and as such, we can definitively state that this fist Oil and Gas Conference and Exposition by GOGA has been successful. We at GOGA and those who are involved in this sector will continue to build on this momentum that you have afforded to us. We will continue to work and develop the education, business opportunities and the creation of linkages with individuals, public and private sector organizations here and in other countries, for the growth of the hydrocarbons sector," he said.
As exploration offshore Guyana continues, the consortium of companies working in the Stabroek Block, as well as the country itself, will no doubt be hopeful that oil prices move upward as production draws near.