Director of Guyana's Department of Energy (DoE), Dr. Mark Bynoe, told a gathering on Monday on the outskirts of Georgetown, that even with the most robust safety systems in place, accidents occur, and as such, the South American country must be prepared for all eventualities as it prepares to enter the league of oil producing nations.
Prevention he said, is being emphasized by the Guyana government as a key oil spill related activity, but this is based on understanding the science and technologies associated with oil exploration and production.  This understanding, he pointed out, must be applied in a "contextually relevant manner" with the goal of managing the risk throughout an operation.
"In this vein therefore, it is essential that wells are properly designed for the range of potential risk. Established procedures and protocols are developed, established and followed. Equipment is constantly inspected and effectively deployed and maintained and training and safety become integrated in all sections of then operators modus operandi," he stated.
The DoE head said that despite the systematization of these efforts, accidents do occur. "The Cooperative Republic of Guyana has to be prepared for all eventualities, applying as far as practicably possible, a tiered response to mitigate risk inclusive of working closer with the operators and their contractors and ensuring adequate risk transfer methods are in place," he stated.
Large oil spill "statistically unlikely" but preparation is key – Exxon Country Manager
Dr. Bynoe was at the time speaking at a national workshop on contingency planning and implementation of the International Convention on Oil Pollution Preparedness, Response and Cooperation (OPRC Convention), being held at the Arthur Chung Convention Centre from March 18 – 20.  The workshop was hosted by the Civil Defence Commission (CDC), in collaboration with the International Maritime Organization (IMO), the United Nations Regional Coordinating Unit for the Caribbean Environment Program UNEP-CAR/RCU and RAC/REMPEITC-Caribe.
Emergency response volunteer programme launched in Guyana
In his remarks, Director General (ag) of the CDC, Lt. Col Kester Craig, said the Contingency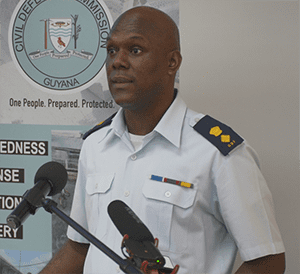 Plan is intended to prevent and mitigate direct and indirect impacts of all oil spills which may occur on the environment by ensuring that coordinated and efficient systems for assessment, response and recovery are in place and can be activated accordingly.
He said the presence of representatives from both private and public stakeholder agencies at the workshop signals that there is not only recognition of the need to collaborate towards ensuring a safe Guyana with the emergence of the oil and gas sector, but more importantly, it shows that there is already the highest levels of commitment.
"What will be most important for us all as we participate and when we leave this workshop is to recognise the deficiencies which may exist for these new roles and individually and collectively work on addressing these gaps and to build our capacities at all levels for the task which lays ahead," Lt. Col Craig said.
The objective of the-day workshop is to provide information to the participants and create a greater understanding and appreciation of the National Oil Spill Response Contingency Plan and the requirements, policy, and procedures for implementation in the case of a National Oil Spill response.