Acting Commissioner of the Guyana Geology and Mines Commission (GGMC) Newell Dennision on Wednesday on the second night of the Offshore Technology Conference (OTC) in Houston Texas, encouraged oil companies to look at the shallow waters offshore Guyana as there might be potential for petroleum fairways.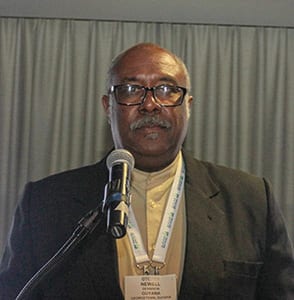 Dennison was at the time giving an overview of Guyana's offshore geology and oil exploration history with a focus on the continental shelf areas.
Pointing out a number of challenges to exploration success in the Guyana basin, Dennison identified source rock maturity, reservoir charge and poor structural development. However, he pointed out that there is information to suggest that there are working fairways within the shelf areas of the Guyana/Suriname basin.
He noted a number of drill attempts on shelf areas by companies such as CGX Energy Inc. "Literature can show that every one of those early wells added to the unfolding of geology and geochemistry," he said.
The Acting Commissioner made the point that while there is some amount of successful derisking of the deepwater offshore Guyana, the shelf areas which he believes offers much possibility for discoveries are yet to be derisked. He said, however, that the oil and gas business is one made up of risks and reward. "Surely the offshore estate is rich but the shelf area of the Guyana basin though yet to be derisked is a formidable estate for economic development."
He said that Guyana would welcome investors who are willing to make the move into these areas. "Long term strategies and genuine resolve for relationships founded on mutual respect and equitable partnerships are the win/win scenarios that Guyana and Guyanese would welcome," he said.
The GGMC is one of the South American country's government agencies represented at OTC 2019, and the regulator for the country's oil and has sector.