CEO of the Guyana Office for Investment (GO-Invest), Owen Verwey, is heartened by the traffic passing through the Guyana Booth at the Offshore Technology Conference (OTC) currently taking place in Houston Texas, USA, saying that the opportunities for networking are numerous.
Speaking on the sidelines of the event on Monday May 6, 2019, Verwey noted that the OTC is the largest oil and gas conference in this part of the world and Guyana's presence bodes well for its emerging oil and gas industry.
"We're emerging as an oil and gas nation and we have had little or no experience in this area," Verwey said, adding that the decision to attend the conference is to allow for the 24 Guyanese companies to be able to get the necessary exposure in what is considered the industry capital of the world – Houston Texas.
"…the next [step] is for them to network with the players in the industry so they can open doors of opportunity. As you know, GO-Invest has partnered with the Georgetown Chamber of Commerce and Industry to bring 20 plus businesses to this event so that they can benefit," he said.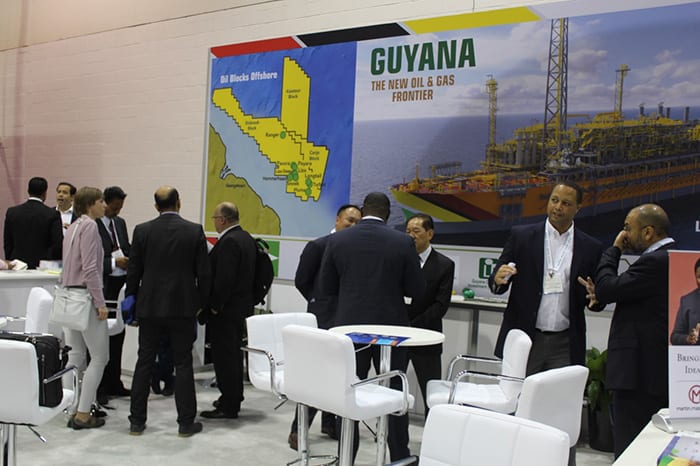 Verwey made the observation that persons flocked to the booth before the doors were opened at 9:00 hrs on Monday morning. It is now past [midday] and we continue to see high traffic here. I think that by the end of the next two days we would have made a very big impact in the market itself particularly for the businesses we brought here and that is what we wanted to do," Verwey said.
He said that having been a part of some of the discussions it is amazing to see the scale of some of the companies that are engaging with the Guyanese entities. He said among the reasons for the high traffic at the booth is because more and more companies are becoming interested in Guyana because of its oil and gas potential.
In addition to representatives of some 24 local companies, the team included officials from state agencies. Guyana's contingent is operating out of a 600 square foot booth which is set up to facilitate engagement between the local representatives and the large companies in the oil and gas sector present at the conference.
The flagship OTC conference is held annually at NRG Park in Houston. OTC 2019 is sponsored by 13 industry organizations and societies, which work cooperatively to develop a technical programme for energy professionals to meet to exchange ideas and opinions on advanced scientific and technical knowledge for offshore resources and environmental matters.