A team from the Guyana Oil & Gas Association (GOGA) met with over 15 companies in Canada this week which are looking to partner with Guyana's private sector for opportunities in the country's emerging oil and gas sector. The meetings were facilitated by the Trade Commissioner of the Canadian High Commission in Georgetown, Guyana.
Speaking to OilNOW from Newfoundland, Canada, President and CEO of GOGA, Bobby Gossai Jr. said a key benefit from these potential partnerships will be the transfer of knowledge and expertise. "These partnerships can serve to build business relationships, transfer technology, and skills development in the offshore industry," he said.
Some of the companies and organisations the Guyana team met with include, Canadian Global Maritime, Atlantic Offshore Medical Services, Rutter Inc., Maderra Engineering, EnviroMed Detection Services, GRi Simulations Inc., Crosbie Group Limited, Oceans Limited, Marine Institute of Memorial University, Newfoundland and Labrador Environmental Industries Association, among several others.
The Guyana team met with Deputy Minister, Department of Natural Resources, Newfoundland and Labrador, Gordon McIntosh.  The Department has responsibility for the energy sector and mines under its jurisdiction. Its mandate includes petroleum development, royalties and benefits, and policy. Meetings were also held with the Canada Newfoundland and Labrador Offshore Petroleum Board.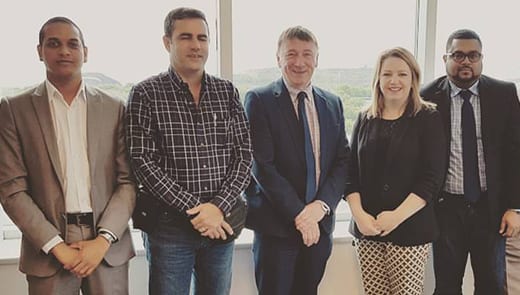 The Guyana team also explored partnerships with educational institutions in Canada for the provision of training to Guyanese.  "We are also trying to meet with some educational institutions to see how they could partner with both public and private sector organizations in Guyana to offer services such as training and skills development for the offshore oil and gas industry in particular," Mr. Gossai said.
The team from Guyana arrived in Canada a week ago to attend the Newfoundland & Labrador Oil & Gas Industries Association (NOIA) 2017 Conference which was held in St. Johns, Newfoundland, from June 19 – 22. NOIA is Canada's largest offshore petroleum association. With almost 600 members in Atlantic Canada and around the world, NOIA is at the center of East Coast Canada's oil & gas industry. NOIA members provide products and services for the petroleum sector while associate members include petroleum companies, trade associations, educational institutions and government bodies and agencies.