President of ExxonMobil Guyana, Alistair Routledge, said in a recent interview that there are over 900 highly trained people in total, stationed on the Stena Carron, Stena DrillMax, Noble Bob Douglas, Noble Tom Madden, Noble Don Taylor and Noble Sam Croft, supporting safe drilling operations offshore Guyana.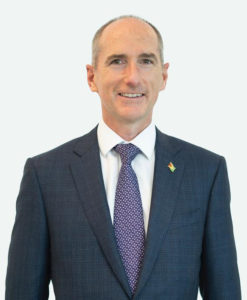 "It's incredibly important to us that we manage our operations extremely carefully to protect the environment. We recognize this is a beautiful country. The natural resource is not just the oil and gas but what's in the marine environment, what's on shore, and we want to protect that and so we take a lot of steps to do that," Routledge said during a recent interview streamed on social media. "It starts right at the beginning when we design our operations; design what we're going to go and do, whether that's the procedures, the facilities, the equipment that we use or indeed the people that come with it."
He said the company's drilling operations very carefully take all the lessons learned from similar operations around the world to design the wells to be safe, using the latest equipment and very modern drillships.
"These are incredible drill ships with 160 people working on each of the six drillships offshore. They are highly trained, bringing experience from all around the world," he said.
Routledge also stressed that the company remains focused on delivering the most value from the 2016 Stabroek Block agreement for the country as it continues to search for more oil and gas which would then be carefully and methodically developed.
He believes the hydrocarbon resources at the Stabroek Block hold significant potential to advance Guyana's economic development.
"I think it has every chance of doing that… I don't control what happens to the money that goes into the Natural Resource Fund but from what I've seen around the world, what has been established around the rules, the reporting requirements for the revenues that we generate, that money has to be very clearly identified and reported on as it's paid into the fund," he said.
He said such a mechanism already being in place sends a positive message about how Guyana wants to manage its affairs. He added that he has a lot of optimism about the transformational effect oil will have on the South American country.
To ensure mechanisms are in place for the mitigation of the effects of an oil spill in the unlikely event one happens, the government has mandated a series of provisions in ExxonMobil's permits. These include requirements for insurance and financial guarantees. The company is also required to order a capping stack, a critical piece of equipment that would allow Guyana to respond and seal off a breach at the site of a spill. When the equipment arrives, Guyana will be the only country in the region with such an instrument on hand.