Officials from ExxonMobil Guyana were part of a team that recently met with stakeholders in Regions Five and Six for discussions on the impact of a potential Liza Phase 2 Development project.
This Public Scoping Mission is being hosted in collaboration with the Environmental Protection Agency (EPA) in Guyana and is scheduled to take place at several locations in the country. The oil company had conducted similar exercises for the Liza Phase 1 environmental authorization.
The exercise in the Berbice district wrapped up on Thursday (January 19) at the Number 66 Fishery Complex, East Berbice, Corentyne.
During this exercise, persons were updated on the Liza Phase One and Two developments and they were also given an opportunity to gain hands-on knowledge on how oil production will impact them.
Among the major issues raised by stakeholders was the provision of employment opportunities for Guyanese and preparations in the event of an oil spill.
ExxonMobil Operations Manager in Guyana, Doug McGehee give the assurance that the company has a comprehensive response plan in the event of an oil spill. He added that worldwide, there is a three-tier response mechanism to address oil spills.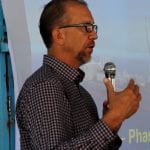 "Tier one, involves our vessels being equipped with the capability to detect any oil spill, tier two is where we have contracts in place with regional groups and what we have been doing is training Civil Defense Commission and other local people here on how to deal with and how to contain oil while with tier three we fly equipment and people in within 24 hours to address it," Mr. McGehee said.
As it relates to employment opportunities for Guyanese, McGehee related that a number of persons have been trained and continue to receive training that will enable them to gain employment in the industry.
"We have also opened a Centre for Local Business Development (CLBD) that is designed to specifically connect potential contractors to sub-contractors, who are looking for goods and services that Guyanese companies can supply," he said. ExxonMobil officially opened the Centre in July of 2017. The CLDB aims to assist small and medium-sized Guyanese businesses with building their capacity and improving their competitiveness in the oil and gas industry.
As part of the regulatory process, ExxonMobil affiliate Esso Exploration and Production Guyana Limited has submitted an application to the Environmental Protection Agency for environmental authorization for a potential Liza Phase Two Development.
The potential concept involves a second Floating, Production, Storage and Offloading (FPSO) vessel and related subsea equipment, umbilical, risers and flow lines, which are similar to the Liza Phase One project.
This will see over 35 to 40 wells being drilled, which will have the capacity to produce approximately 190,000 to 220,000 barrels of oil per day. This is around double the production capacity of the FPSO Liza Destiny that will bring first oil for the South American country in 2020.
Reporting: Royan Abrams