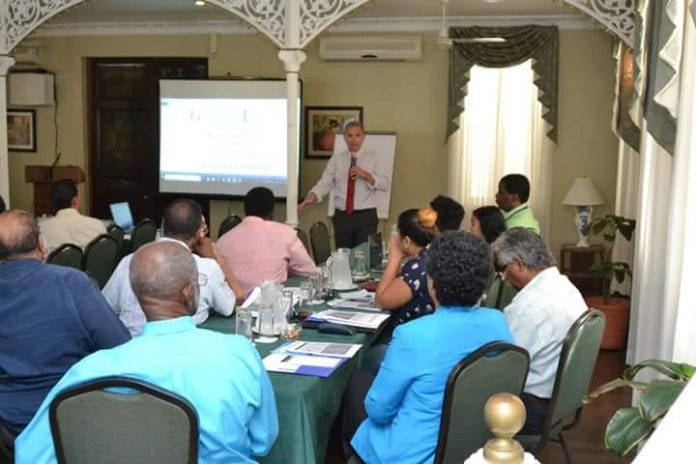 As Guyana pushes to promote transparency, accountability and good governance of its oil, gas and other natural resources, the Guyana Extractive Industries Transparency Initiative (GYEITI) in collaboration with the Ministry of Natural Resources opened a two day capacity building workshop at the Cara Lodge Hotel, in the country's capital, Georgetown, on Monday.
The purpose of the workshop is to engage participants such as the Multi-Stakeholder Group (MSG), National Secretariat, Government officials and agencies, media representatives, companies and civil society, in understanding the EITI value chain and Guyana's first EITI reporting cycle. It also seeks to address the challenges, benefits and opportunities of the country being a party to the transparency body.
Opening the workshop was the National Coordinator of GYEITI, Dr. Rudy Jadopat who made it clear that GYEITI is not there to solve all the problems but to be used as a mechanism in starting the process which would advance only if "all parties are involved."
Presentations were done by representatives from the EITI International Secretariat Dr. Francisco Paris and Ms. Gisela Granado on the 'Outcomes and Impacts of the requirements for EITI implementing countries'.
Dr. Paris, Regional Director for Latin America and Caribbean, noted that regular disclosure of extractive industry data is of little practical use without public awareness, understanding of what the figures mean and public debate about how resources can be used effectively. He said, "We can do the report and hand it over with fancy pictures but no one understands what is in the report so we encourage public debate. The requirement related to outcomes and impact seeks to ensure stakeholders are engaged in dialogue and it is vital that lessons learnt during implementation are acted upon; that discrepancies identified are examined and if necessary addressed."
In explaining the EITI value chain Dr. Paris noted that the roles of government agencies and companies go hand-in-hand. Implementing countries must disclose a description of the legal framework and fiscal regime governing the extractive industries. This information must be easily accessible and up to date. He encouraged the GYEITI to have the information available on their website so they can be considered a trustworthy partner. He also noted that all licenses allocated must be available easily so that it can be included in the EITI reporting.
The workshop will cover the EITI value chain, which encompasses; contracts & licenses, production, revenue collection and social and economic contribution. Each topic will be broken down further so that participants can understand what is expected in the reporting cycle.
Under its obligations as a member of EITI, Guyana is required to publish its first EITI Report by April 2019. GYEITI has completed its first Annual Progress Report which is being reviewed by the MSG comprising representatives of the Government, industry and civil society.