Recruitment firm El Dorado Offshore (EDO) is looking to establish a training institute in Guyana as part of efforts to enhance the capacity and skills of those in the South American country looking to tap into opportunities in the oil and gas industry.
The company was established in Guyana in 2016 and offers a range of services to the oil and gas industry, including manpower supply, payroll, recruitment, security, ship chandlery, and personnel logistics.
EDO's Human Resources Director, Sherry Ferrell noted that the company's Guyanese staff component has grown significantly since its establishment. "We were founded in Guyana in 2016 with five employees. Currently, we have over 200 strong, all local I must say, fully Guyanese," she said.
The HR Director said the company is in the process of providing training courses for recruits. However, the COVID-19 pandemic impacted their progress. She said, "We do want to have a training institute there because over the past four years, we would have been sending persons to Trinidad and other places to do training on behalf of clients and we would have found that it would be beneficial if we have that service right here in Guyana."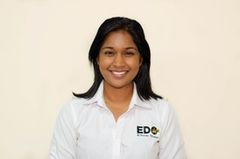 Meanwhile, Regional Director for El Dorado Offshore, Sarona Samaroo said as part of the goal to establish a training institute, they will be partnering with an international training school.
"We are working on trying to partner with a training school in Guyana, an international training school so that we could help contribute to the development of local content in Guyana," she told OilNOW.
The company has a target of having such a partnership established by the second quarter of 2021. This institute, she said, would provide training opportunities for both men and women. EDO wants its training to align with Guyana's local content framework whenever one is established, "to not just empower men but empower women to gain that economic empowerment to work in the oil and gas industry," she added.
The company has 18 female employees–mainly in leadership and administrative positions. The HR Director also disclosed that these women are not just working onshore. "We have cooks, stewards, persons doing rig logistics on the rigs out in the ocean so it's not just office staff," Ferrell shared.