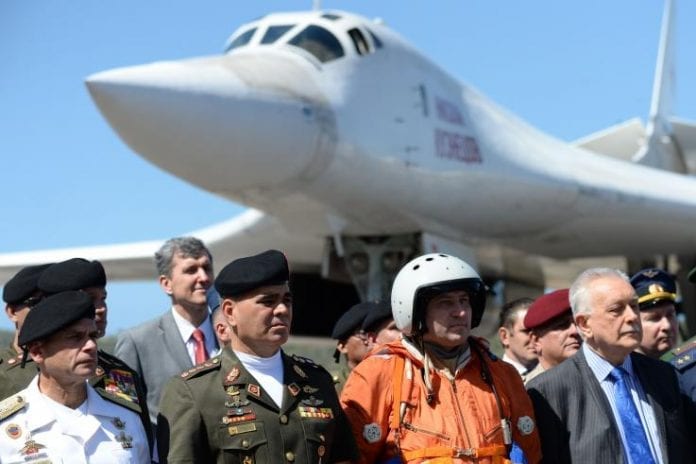 Guyana's former Minister of Natural Resources and the Environment Robert Persaud says Russia has no business meddling with Venezuela's march to a liberal democracy and called for the Government of Guyana to be clear on its stance on the Venezuela crisis.
He made the comment in light of recent reports which said that Russia has sent not only nuclear capable fighter aircraft but military personnel to the beleaguered South American socialist country.
Persaud is of the view that Venezuela's future is to be determined by the people of that country.
"In fact, its decision to transport nuclear-capable fighter bombers and now servicemen, is in fact a direct threat to our own national security and more specifically, our progress on developing offshore hydrocarbons," Persaud stated.
Venezuela urged to back off as Guyana vows to continue offshore exploration, development
He noted too that the "seeming apathy on the part of Guyana's diplomatic posture is worrying" and pondered whether the Government has other "stratagems."
"It would be ill-advised to leave the nation in a comatose state on the threat of Russian incursions in Venezuela given our unique and sensitive position re: Venezuela's historic aggression. Guyana must not be left exposed by being ambivalent on the Venezuela/Russia power games." The former minister said.
Venezuela becoming increasingly aggressive in push for more territory
Russia on Saturday warned Washington to stop interfering in the stand-off between Venezuela's government and the opposition movement, and once again defended its decision to send personnel to the country.
"We recommend that the United States stop threatening Venezuela, smothering its economy and pushing it towards civil war in open violation of international law," foreign ministry spokeswoman Maria Zakharova said in a statement, according to one international report.
It is being reported that on Friday, US National Security Advisor John Bolton warned "actors external to the western hemisphere against deploying military assets to Venezuela."
In response to Bolton's warning, Zakharova reportedly said Russia had made it clear it was not sending a military contingent to Venezuela.
Two Russian military planes landed recently at the main airport outside Caracas, offloading equipment and troops. However, Russian officials reportedly insisted the troops came to Venezuela "as part of a long-standing agreement on military and technical cooperation."