Guyana is expected to rank among the thirty largest nations for offshore oil services by the 2020's and has the potential to produce up to 700,000 barrels of oil per day if all of the current discoveries are made operational. This is the projection of Senior Analyst at Rystad Energy, Sonya Boodoo.
In a presentation held at 'The Symposium', Duke Lodge, Georgetown, on Tuesday, July 10, Boodoo divulged that this forecast is based on the data that Rystad Energy has acquired and analysed. Rystad's analysis mirrors that of UK-based analyst Wood Mackenzie whose estimated daily production for Guyana also stands at 700,000 barrels per day by the late 2020s.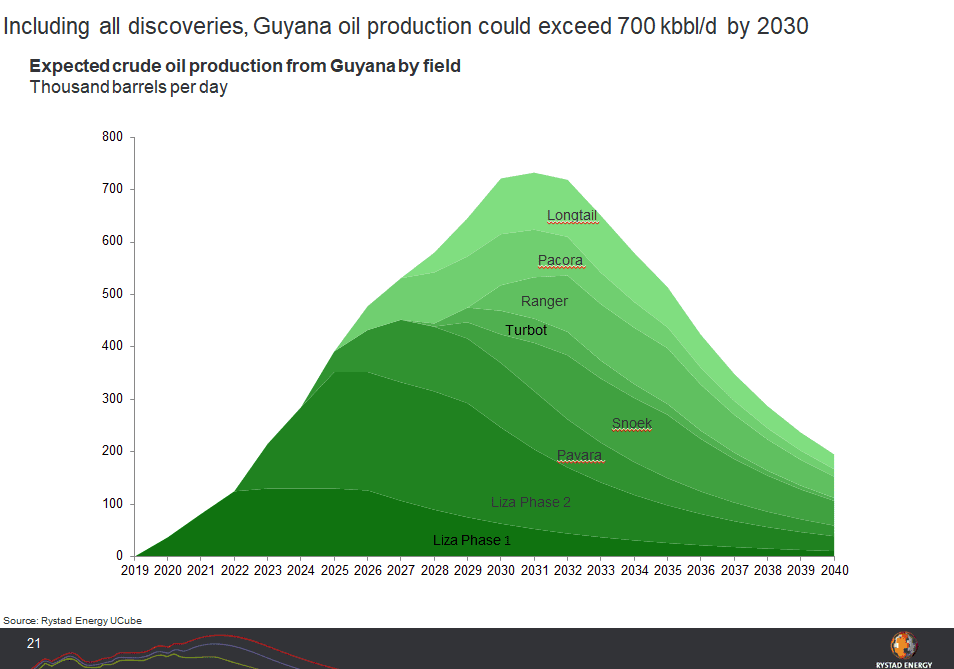 "We've done this sort of forecast for oil fields and other discoveries here in Guyana, and when we aggregate all the discoveries together and the potential production that could come from the discoveries, if all of them all sanctioned [by ExxonMobil]. What we see here is Guyana oil production could exceed 700,000 [barrels per day]. On aggregating all of the production profiles for the discoveries, we expect that production will reach 700,000 barrels a day by 2030," Boodoo stated.
The Analyst also related that the emerging oil-producing state's potential as an oilfield services destination is immense; however, this would require development and investment, saying "with all these discoveries, we see that Guyana has the potential to emerge as a major upstream destination for oilfield services. We have projected that the CAPEX (Capital Expenditure) and OPEX (Operating Expenses) for all these discoveries in the Stabroek Block; we expect that it will reach about $15 billion dollars. And this is as a result of ambitious development plans that will require at least three large FPSOs." She further added, "We expect Guyana to rank among the thirty largest nations for offshore services by the 2020's."
In order to achieve this potential as outlined in her forecast, Boodoo says that significant subsea infrastructure will be required in order to develop the oilfields. "The second and third ones [FPSO's] are expected to be even larger than the Liza Destiny which has a 120,000 barrel per day capacity. All of these discoveries also lie in deep water with depths ranging between 1500 and 2700 meters…And we expect approximately 60 to 100 wells to be drilled," she asserted.