Seven giant National Oil Companies (NOCs) can continue to produce at their current rates for another 40-60 years from existing resources, and even longer, if they convert some of what is currently considered contingent resource into commercial. This is according to new analysis from global research and consultancy group, Wood Mackenzie.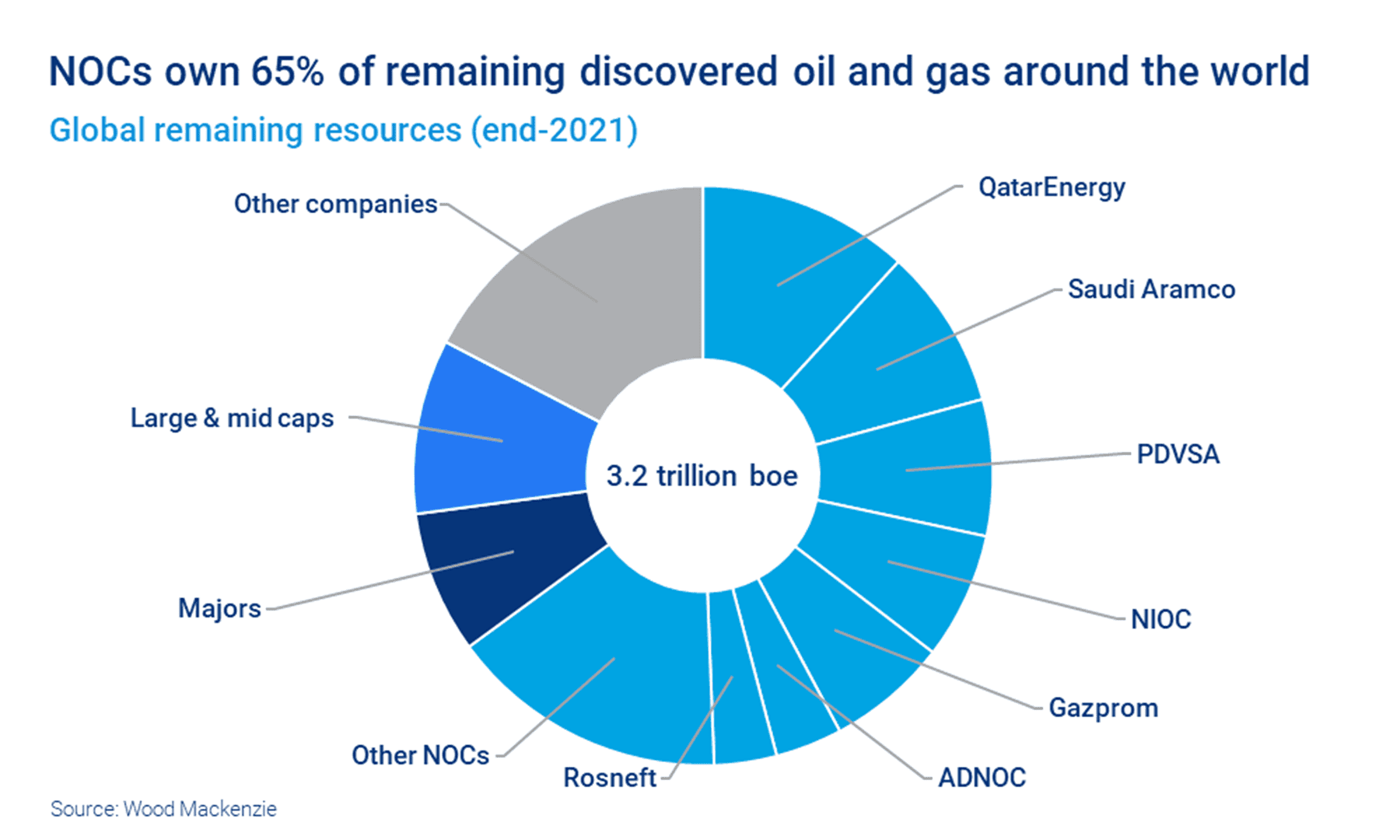 These NOCs include QatarEnergy, Saudi Aramco, PDVSA, NIOC, Gazprom, ADNOC and Rosneft.
WoodMac said NOCs consistently contribute more than a third of the world's newly-discovered resources. That proportion has hit more than 50% in some of the last few years.
"Of course, not all NOCs are explorers," says Tra Ho, Senior Research Analyst and Jamie Taylor, Senior Product Specialist.
The duo, in a recent paper, said the role of exploration for those with abundant resources differs when compared to importing countries' NOCs. Oil and gas importers, they said, need to speedily commercialise new resources to meet energy security mandates.
"So, while it might be assumed that giant exporting NOCs will far exceed their importing peers in terms of forecast production from exploration, new volumes discovered by importing countries' NOCs – from oil from Guyana to gas from Turkey – are stacking up," the analysts stated.
Since 2011, NOCs have discovered more than 100 billion barrels of oil equivalent (boe) – double the tally of the Majors. However, the Majors fared significantly better in terms of commerciality. About two-thirds of the volumes discovered by the Majors are considered viable, advantaged resources. For the NOCs, about two-thirds are currently still considered contingent.
Another big contrast is that more than 75% of the Majors' discoveries are in deep water. For the NOCs – Petrobras being a notable exception – it's only about a third.
With the focus on advantaged barrels, greenfield Final Investment Decisions are being dominated by low-breakeven, low-carbon deepwater projects, mainly located in the U.S. Gulf of Mexico, Brazil, Guyana, and West Africa.
ExxonMobil's largest project to date in Guyana – the Yellowtail Development – will deliver 250,000 barrels of oil per day (bpd) by 2026, adding to the combined output of approximately 560,000 bpd from Liza Phase 1, 2 and Payara.
Minister of Natural Resources, Vickram Bharrat said with the combined output from these projects, the government can expect to make around 50 oil lifts per year by 2026.
"So, when you crunch the numbers, 50 lifts at a million barrels and based on the oil price today if it continues along that trend, you can see or get an idea of the direct proceeds coming to Guyana…And we are not even talking royalties yet," he told OilNOW in a previous interview.
Stabroek Block production growth ramp is best in the industry
To date, ExxonMobil has found nearly 11 billion barrels of oil equivalent at its giant Stabroek Block spread across more than 30 discoveries made since 2015.