Even as Guyana continues to approach the disclosure of its agreement with US super-major ExxonMobil for the development and production of petroleum with caution, sinister moves appear to be afoot by others, to gain access to these documents, disclosed Minister of Natural Resources, Raphael Trotman.
The South American country has been embroiled in a decades-old controversy with neighboring Venezuela over claims to large swaths of its territory, which includes oil-rich maritime waters offshore. Guyana maintains that this issue was settled over a century ago in an 1899 arbitral award. The matter now seems headed for the International Court of Justice (ICJ) since the existing Good Offices process, which began in 1990, will come to an end in December.
Mr. Trotman has repeatedly stated that this pending juridical matter is the primary reason his government has opted to not disclose details of agreements pertaining to the exploration and production of petroleum. The natural resources minister went a step further during a recent televised programme in Guyana, stating that authorities have reason to believe that persons may have been put up to gain access to these documents. "There has been, and I can only say this much; a very active effort by some others to gain access to our documents and we have every reason to even say publicly that some people have been put up to try to  gain documents on behalf of, or for obvious reasons…," he said on Plain Talk, aired on July 26.
He was responding to a question by Moderator of the programme, Christopher Ram, who asserted that the Guyanese people had a right to be privy to the contract, and queried what can be depriving them of this.
The Minister has long maintained that legal experts looking into the territorial dispute on Guyana's behalf have advised that the disclosure of information related to the contract be approached with caution. "We are in a very delicate year with the ICJ and we have… even though some of us are lawyers, we have received the benefit of advice from our foreign experts and advisors who are preparing us for the possibility of a juridical settlement of the matter," he stated.
In addition to the pending court matter, Mr. Trotman said there is a clause in the Petroleum Act that seems to put the onus on disclosures in the hands of the licensee. "Right now the Petroleum Act is under scrutiny by the Commonwealth Secretariat and I've asked that they take a look at the Act, at this very section, to see how it could be either removed altogether or modified, because it does strangely put everything in the hands of the licensee; that the licensee shall give permission to the government," he said.
According to the Petroleum Act, "…no information furnished, or information in a report submitted, pursuant to this Act by a licensee shall be disclosed to any person who is not a Minister, a public officer or an employee of the Guyana Geology and Mines Commission, except with the consent of the licensee."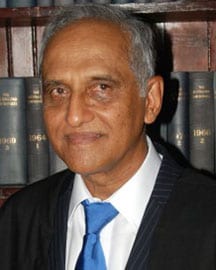 However, Mr. Ram, who is also an Attorney-at-Law and Chartered Accountant, said, based on his interpretation, this pertains to information in a report, and not, in the case of an agreement between Guyana and ExxonMobil, the contract itself. "I reject completely any interpretation of the Petroleum Exploration Act that seeks to prevent the full disclosure of petroleum contracts and agreements," he told Oilnow.
UN Secretary-General Antonio Guterres is on record as saying that if by the end of 2017 there is no significant progress towards arriving at a full agreement for the solution of the controversy; he will choose the ICJ as the next means of settlement, unless the governments of Guyana and Venezuela jointly request that he refrain from doing so.