Stones is the world's deepest oil and gas project, operating in around 2,900 metres (9,500 feet) of water in an ultra-deep area of the US Gulf of Mexico. The project started production in September 2016 from a Floating Production, Storage and Offloading (FPSO) facility. The FPSO connects to subsea infrastructure which produces oil and gas from reservoirs nearly 30,000 feet below sea level.
Stones is Shell's second producing field in the Lower Tertiary geologic frontier in the Gulf of Mexico, following Perdido in 2010.
Project overview
Shell announced the final investment decision to develop the Stones field in May 2013. Work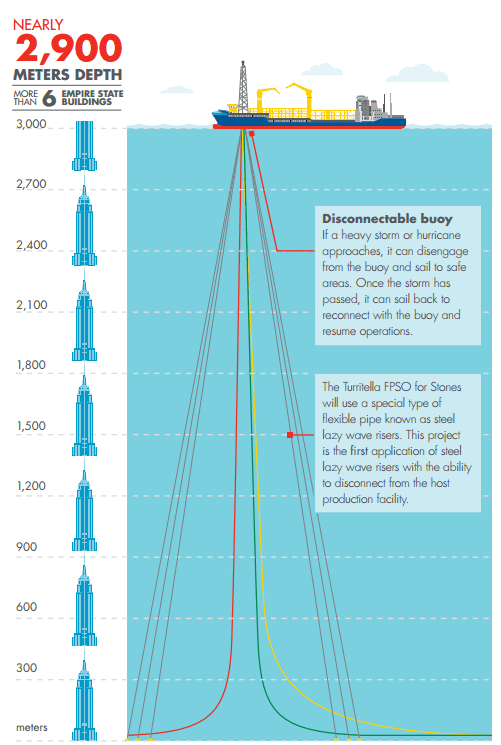 then began to construct and fabricate the FPSO vessel and subsea infrastructure. The FPSO, called Turritella, set sail from the shipyard in Singapore in October 2015 and arrived in the Gulf of Mexico in January 2016.
Development of the Stones field began with two subsea production wells tied back to Turritella. Six further production wells will be added later, as well as a multi-phase system to pump oil and gas from the seabed to the FPSO, increasing recoverable volumes and production rates. All eight wells will be connected to Turritella. The reservoir depth is around 8,077 metres (26,500 feet) below sea level, and 5,181 metres (17,000 feet) below the mud line.
Technology
An FPSO design was chosen to produce oil and gas safely and efficiently from the Stones ultra deep-water field. Tankers transport oil from Turitella to US refineries, while a pipeline transports gas.
Stones uses a special type of flexible pipe, known as a steel lazy wave riser, to carry oil and gas to Turritella for processing. Shell pioneered steel lazy wave risers, which have additional buoyancy creating an arched bend in the pipes between the seafloor and the surface. This bend helps to absorb the motion of the FPSO and boosts production performance at extreme depths.
The FPSO features a turret, into which fits a disconnectable buoy carrying mooring lines and risers from the well system. The turret and buoy design allows the vessel to turn with the wind during normal weather conditions. If a heavy storm or hurricane approaches, the vessel is able to disconnect from the buoy and sail to safer waters. The Stones project represents the first use of a disconnectable buoy configured with steel lazy wave risers to unlock resources of oil in ultra-deep waters.
Shell has more than a dozen deep-water FPSOs around the world. Turritella is the first FPSO it is using in the Gulf of Mexico.