Venezuela's PDVSA is making headlines again. And not in a positive way.
Just when Venezuela's oil industry appeared to be on the rebound, PDVSA has been hit with a major corruption scandal investigation, one that has seen its Energy Minister Tareck El Assami stepping down from his post.
Assami resigned on March 20.
His replacement is Pedro Rafael Tellechea – who ran PDVSA. It was Tellechea who kick-started investigations, starting with an audit into heavy losses the company took in 2022 after oil tankers left the country's EEZ without due payments – US$21.2 billion to be exact.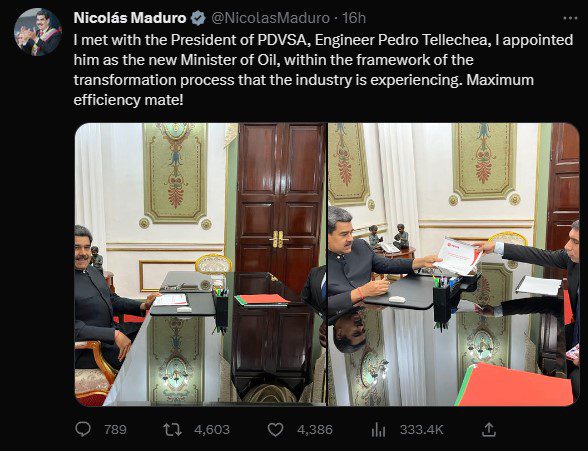 That figure accounted for about 84% of PDVSA's total value of invoiced shipments.
Is Venezuela's oil industry returning to its former glory? | OilNOW
A January 17 Reuters report said that when US trading sanctions hit PDVSA, it turned to "little known middlemen" to allocate its oil exports. This led to big price discounts and problems with payments affecting its cash flow. 
Little is known about the investigations but according to reports, US court documents cite alleged illicit payments, fake documents, money laundering and kickbacks for deals involving sanctions on Venezuelan oil.
Thus far, police in Venezuela have collared two judges, a mayor and three government officials; 20 persons have been arrested in total.
Corruption scandals are nothing new to Venezuela.
Assami had faced allegations that he has connections to drug trafficking.
But this fresh scandal is seen as a blow to what little progress Venezuela has made in the past months. US President, Joe Biden last year eased sanctions to allow Chevron to produce oil in Venezuela.
Then it got another lifeline with approval to develop the Dragon Gas Field with Trinidad and Tobago.
T&T Energy Minister Stuart Young has been in deep negotiations with Assami and PDVSA officials to determine Venezuela's benefits in the deal.
It remains unclear now whether the investigations will put a halt to negotiations with T&T.