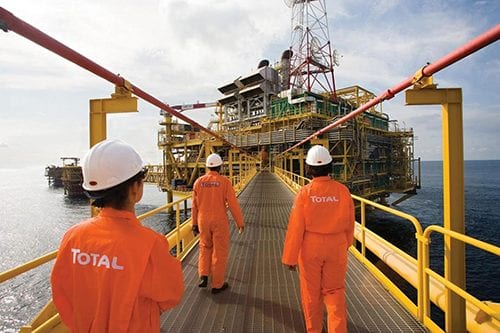 French super-major Total has exercised its option to purchase a 25% working interest in the Orinduik block offshore Guyana for USD 12.5 million.
This comes on the heels of partner Eco Atlantic Oil & Gas' announcement that the block has estimated reserves of 2.91 billion boe (barrels of oil equivalent), including 2.5 billion barrels of recoverable oil and 69.4 bcm (2.45 tcf) of associated gas.
Eco Atlantic CEO Gil Holzman said: "The entrance of Total into the Orinduik Block provides further endorsement of the prospectivity of this License. With Tullow as Operator and the technical contribution that both Total and Eco now bring to the project, we look forward to working with these two world class players in further progressing the exciting exploration of the Orinduik Block. This deal also further validates Eco's long-term strategy, to identify highly prospective assets in frontier basins, with stable governments with favourable Petroleum Agreement terms and world class partners."
He said that the exercising of this Option strengthens their already very strong financial position. "It will fully fund us for the next few years, which are expected to include several exploration and drill programs. The deal proceeds will mean we will recoup all our expenses on the expanded 3D program and are fully funded for drilling a minimum of the first two wells, without raising additional funds," he said.
Colin Kinley, Chief Operating Officer of Eco, stated: "After our issuance of the initial resource report on Orinduik (CPR), which identified our initial exploration leads with close to (3.0) three billion barrels (BOE) of recoverable oil only a few days ago, Total's response helps to validate a couple years' worth of science and interpretation. Total entering the blocks four months earlier than anticipated is welcomed, as they add significant technical horsepower to the interpretation and now bring them into the planning for drilling. Tullow announced last week drilling is anticipated early Q3 2019."
News outlets reported that Total decided to exercise the option following a competent persons report (CPR) announced on Tuesday. That CPR said the Orinduik block could potentially hold 2,9 billion barrels of oil equivalent of P50 (best estimate) reserves identified across a total of 10 leads.
Eco-Atlantic officials added that Total exercised the option before delivery of the final 3D seismic data due to be delivered to Total, which would have triggered a 120-day exercise window for the option. The option, however, does not effect Tullow which will remain the operator and hold down its 60 percent of working interest. Reports said that following the option exercise and the receipt of all requisite regulatory approvals, Total will hold 25 percent while Eco's interest will decrease from 40 to 15 percent.