Guyanese services company TOTALTEC Oilfield Services has announced that it has been shortlisted for Oilfield Services Company of the Year at this year's World Energy Capital Assembly Awards to be held in London, December 4, 2019.
A statement from TOTALTEC said that the Oil and Gas Council Awards program represents a global benchmark of excellence for those working in the oil and gas industry which honours and recognises 12 individuals and companies who have been at the heart of frontier plays and some of the world's largest discoveries.
"These executives, and their businesses, have grown economies, created employment, and continue to change the face of the oil and gas industry," the statement said.
It said it is clear, from that charter, why Guyana would feature prominently in these awards, and TOTALTEC would be included.
"Since its founding in 2016, the TOTALTEC purpose remains the same; to make Guyana an exceptional example of what the discovery of oil can do for a people and a country, by building capacity, and supporting partner companies to deliver to their highest performance standards," it said.
Over 300 Guyanese have been trained to international standards to date in its two academies – the International Petroleum & Maritime Academy (IPMA, 'The Academy') and the Marine Safety Training Institute (MSTI). TOTALTEC is committed to equipping Guyanese men and women with the knowledge, skills, and culture they need to enter, and one day lead, the oil and gas industry in Guyana, according to the statement.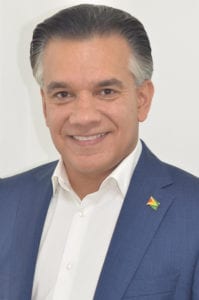 Lars Mangal, TOTALTEC CEO, stated: "Being one of four finalists in this prestigious event is an honour for TOTALTEC. It is worth noting the three other companies competing for the award – TechnipFMC, SBM Offshore, and Schlumberger – are among the largest industry service companies in the world, as well as of those active in Guyana offshore development.
While they are proactive in helping to develop Guyanese, and orders of magnitude larger than TOTALTEC, we believe our purpose, pioneering success, and promise for the future gives us reason to be considered for the award."
The World Capital Assembly Awards will take place in London on 3-4 December, 2019, and bring together over 650 executives from across the industry. Participating companies include First Reserve, Glencore, IFC, Kerogen, L1 Energy, Eco Atlantic, Schlumberger, BP, Shell, ExxonMobil and more.