The United States over the weekend made it clear that it remains in full support of Guyana's bid to have the International Court of Justice (ICJ) preside over the matter involving Venezuela's refusal to accept an 1899 arbitral award that settled the land border between the two countries.
"The U.S. supports the ICJ's 12/18 ruling that it has jurisdiction in the Guyana-Venezuela territorial border issue, which is the legal and peaceful way forward," Michael G. Kozak, Acting Assistant Secretary for U.S. Department of State's Bureau of Western Hemisphere Affairs said in a tweet on Sunday.
This follows a move last week by Venezuelan President Nicolas Maduro to issue a new decree claiming sovereignty and exclusive sovereign rights in the waters and seabed adjacent to Guyana's coast, west of the Essequibo River.
Kozak said the aggressive claims by Maduro does not change the course of action being by pursued by Guyana at the ICJ but instead exposes Venezuela's disregard for international law.
"Maduro's aggressive claims don't change this, they only show the world his disregard for his neighbors and intl. law," Kozak said.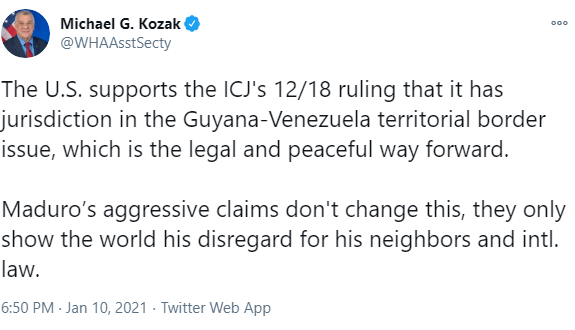 On Saturday, Guyana's President Dr. Irfaan Ali addressed the nation in response to this latest action by Maduro, calling it 'deeply disturbing' and making it clear that the new oil producing country will not respect these claims.
"The fixing of an international boundary under international law can only result from an agreement between neighbouring States, or a binding determination by an international court or arbitral tribunal," Mr. Ali reminded. "Therefore, this attempt by Venezuela to attempt, unilaterally, to fix both its land and maritime boundaries with Guyana is a legal nullity, which cannot, and will not, be respected by any other State in the world, including Guyana."
Guyana and Venezuela have long been involved in a controversy as it relates to their territorial boundaries. The matter was settled by the 1899 Arbitral Award which both Venezuela and Great Britain (of which Guyana was a colony at the time) accepted as a final settlement. However, in 1962 Venezuela began new arguments declaring that the 1899 arbitral award was "null and void".
These claims continued in earnest through the ensuing decades and tensions escalated in 2015 following the announcement by ExxonMobil of its world class oil discovery at the Stabroek Block, offshore Guyana.