Ensuring steps are taken to boost the competitiveness of key sectors outside of the oil and gas industry, such as agriculture, will play a key role if Guyana is to lessen the impact of, or avert altogether, the dreaded Dutch Disease. So says President of the Guyana Manufacturing and Services Association (GMSA) Shyam Nokta, speaking to OilNOW hours before the official opening of "Guyanese flavour: Uncapped";  a 3-day mega agro-processors exhibition which opens this afternoon at the Sophia Exhibition Complex in Guyana's Capital, Georgetown.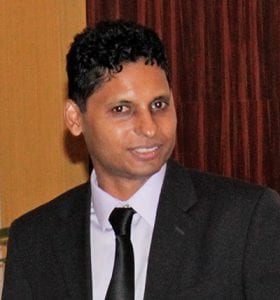 Nokta said agriculture plays a critical role in Guyana's economy, and with the country's food production potential, the entire region stands to benefit from authentic Guyanese agro products. Ensuring adequate attention is given to this industry is therefore critical if Guyana is to have long-term food security and economic prosperity.
"Look at Venezuela, look at Trinidad; the oil is flowing but there is hardship. People are starving in Venezuela. We as a country, we need to ensure that we continue to diversify our economy and continue to strengthen traditional sectors," Nokta pointed out.
He said a percentage of the oil revenue Guyana is set to receive when production begins in 2020 can serve as a catalyst to help with the expansion and diversification of agriculture. "But more importantly it can help us to ensure that we can have a mix of energy options; because one of the biggest challenges to adding value is the high cost of energy," he said.
The high cost of electricity coupled with routine power outages has significantly hampered the South American country's manufacturing industry over the years. Ongoing discussions between Guyana and ExxonMobil regarding the use of natural gas to generate cheaper electricity may serve to address this pressing issue. But the mere generation of cheap electricity will not by itself solve the problem, since the country's power transmission and distribution networks are in dire need of an overhaul.
"The energy barrier is a big challenge to agro-processing. Right now we need this barrier to be addressed. If the opportunity through gas is a feasible option, this is something that we welcome because it will allow us to move rapidly towards resolving the current energy challenges we face," Nokta said.
Over 60 exhibitors will be participating in the event with a wide range of products on display. Nokta said small, medium and large scale companies will all be working together, not only to showcase their products, but to benefit from networking opportunities.