The United States, Canada and the United Kingdom today called on the Granger-led administration of new oil producer Guyana to "avoid a transition of government" following grave concerns with the conduct of the verification process following Monday's election.
Political parties contesting the elections, including the main opposition People's Progressive Party Civic have said the process that led to declaration of results for the most populous district – Region 4 – was marred by alleged fraud.
The US Sate Department also said on Friday that it joins with other stakeholders in this call.
"No candidate should declare victory or be sworn in while serious questions remain about credibility of March 2 elections and whether procedures were followed," Michael G. Kozak, Acting Assistant Secretary for U.S. Department of State's Bureau of Western Hemisphere Affairs said in a tweet.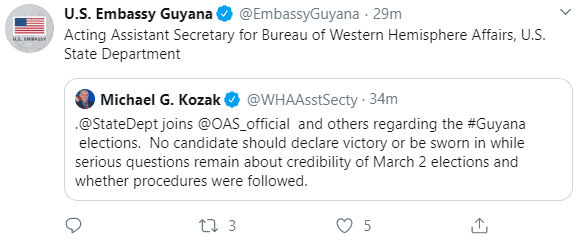 See joint statement from the US, UK and Canada below:
Joint Statement
March 6, 2020
Elections
The Heads of Mission of the Embassy of the United States of America, H.E. Sarah-Ann Lynch, the British High Commission, H.E. Greg Quinn, the Canadian High Commission, H.E. Lilian Chatterjee, and the Delegation of the European Union, H.E Fernando Ponz-Canto, express deep concern over credible allegations of electoral fraud which may influence the results of this election.
We call on all to ensure proper procedures are in place to yield a credible election result. A fair and free process is vital for the maintenance and reinforcement of democracy in Guyana.
We call on President Granger to avoid a transition of government which we believe would be unconstitutional as it would be based on a vote tabulation process that lacked credibility and transparency.
RELATED:
Coalition takes lead in Guyana elections amid controversy over credibility of results
Guyana opposition leads as verification of votes from most populous district continues