The United States of America and the United Kingdom are stepping up their call for full transparency in Guyana's March 2 election where to date a winner has not been declared.
"The calls for a free, fair, credible election in Guyana grow louder. The United States stands with foreign office in warning of serious consequences for any individuals who seek to benefit from electoral fraud and form illegitimate governments," Michael G. Kozak, Acting Assistant Secretary for U.S. Department of State's Bureau of Western Hemisphere Affairs said in his most recent tweet on the matter on Tuesday.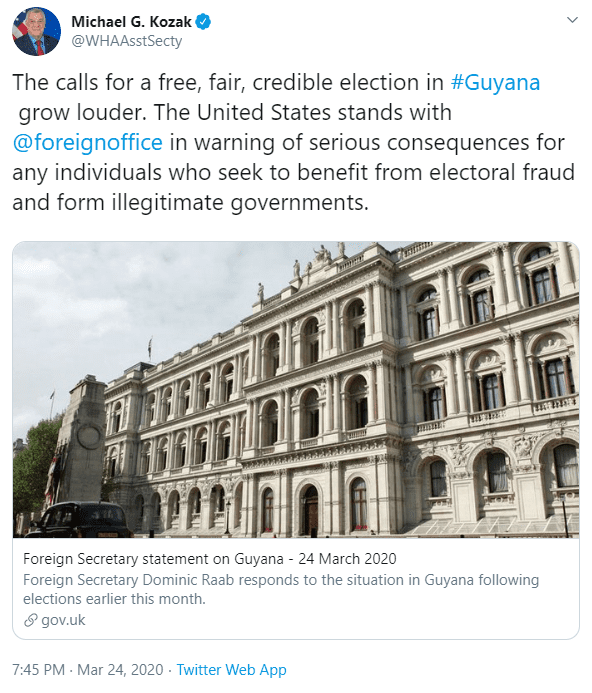 UK Foreign Secretary Dominic Raab said the same day that the transition of a government in Guyana should only take place in line with transparent and democratic principles that lead to credible results.
"Any government sworn in on the basis of non-credible results will face strong international condemnation. If the situation continues to deteriorate, this international response will include a range of serious consequences for those concerned," Raab said.
US, UK warn of 'serious consequences' for those looking to benefit from electoral fraud in Guyana
Controversy surrounding the tabulation of votes for Region 4, the most populous district in Guyana, saw the country's Chief Justice ordering that the process be redone in adherence with the constitution and in a manner that provided for full transparency in the presence of contesting party representatives and other stakeholders.
Contesting parties and several local and international observer groups have said that the process used to arrive at the final results for Region 4 lacked transparency and that any winner declared by such a process would not be legitimate.
Following the Chief Justice's ruling, Regional Officer for Region 4, Clairmont Mingo – the person responsible for tabulating the votes – in a redo of the process did not allow for full scrutiny of the Statements of Poll which are the documents from which the total votes for each polling station in the district are derived from. Stakeholders accused Mingo of using bogus figures in an effort to arrive at a declaration that favoured the incumbent APNU+AFC coalition party.
Coalition party officials have said that there was no wrong-doing on the part of Mingo. However, two smaller parties in the APNU arm of the coalition have since come out in support of a recount.
COVID-19, political instability could restrict Guyana's growth and stall oil investments
The country's President, David Granger, who maintains he is committed to transparency and stands by the rule of law, had invited a team from regional body CARICOM to supervise a full recount of the votes as a final solution to the elections impasse. However, on arrival the team was unable to proceed as planned after a candidate in the APNU+AFC coalition party which the President leads, moved to the court to block the recount, arguing it was not in keeping with the constitution.