In keeping with a transparency mandate outlined in the Natural Resource Fund Act 2021, the government of Guyana has published in its official gazette, the receipts of funds into the Natural Resource Fund.
According to the data, the government received five payments into the fund during the third quarter of 2022 – four profit oil payments and one royalty payment.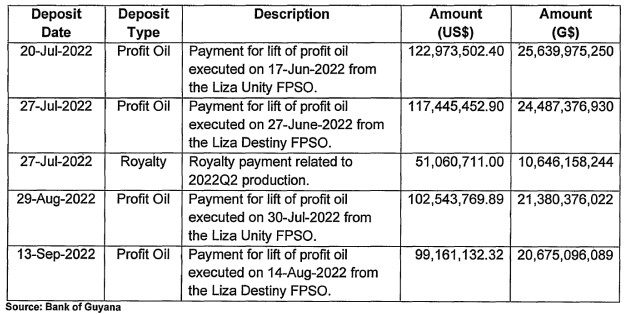 The government received two profit oil payments from the sale of lifts from the Liza Destiny floating production, storage, and offloading (FPSO) vessel, and two from the Liza Unity.
Royalties are paid on a quarterly basis in a single deposit.
The Fund surpassed the billion-dollar mark for the first time, in the third quarter.
Reports about payments are also issued by the Central Bank of Guyana and the Ministry of Finance.
In the 2021 update to the Natural Resource Fund, the government decided to hold officials liable if they ever fail to publish notices of receipts to the Fund in a timely manner. Offenders would be subject to fines and jail time.
The government said this is necessary to prevent the recurrence of the controversy over the Stabroek Block signing bonus. At the signing of the 2016 Production Sharing Agreement (PSA), the then government received US$18 million as a signing bonus and neglected to notify the public until more than a year later.
Two oil production projects are currently in operation in Guyana's Stabroek Block – Liza Phases 1 and 2. Their current combined output is around 360,000 barrels per day.
ExxonMobil is the operator of the Stabroek Block with a 45% stake, while Hess and CNOOC hold 30% and 25% respectively.