Rystad Energy's Latin America analyst, Sofia Forestieri, said the energy research firm expects international oil companies to invest approximately US$60 billion into exploration and production activities, mainly in the Stabroek Block, in the decade 2021-2030.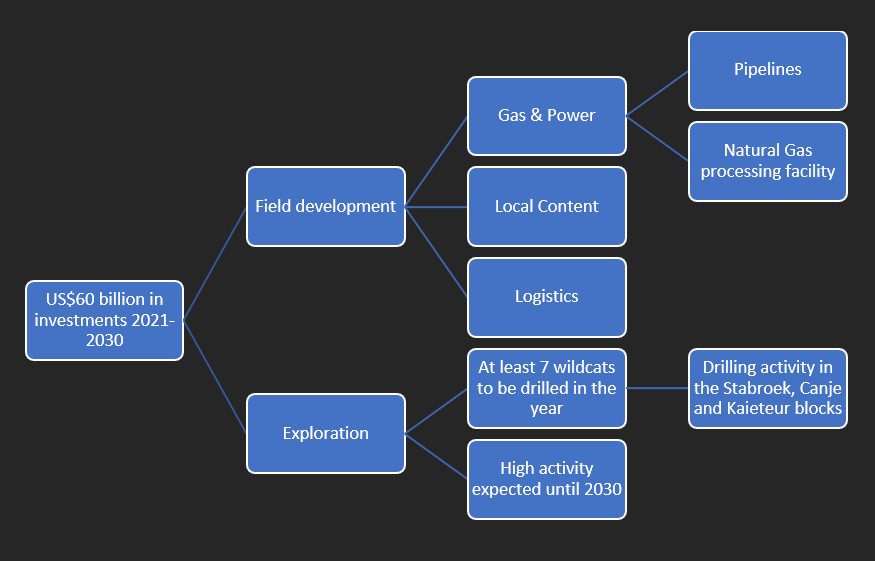 Rystad projected that, of investments made into the petroleum sectors of countries in the Latin America region, Guyana investments would amount to the fourth highest. Guyana stands behind Brazil, for which Rystad projects more than US$180 billion in investments for the decade. That country is projected to have production numbers near 5 billion barrels per day (bpd) by 2030, with its state oil producer, Petrobras, primed to become the world's largest by daily production.
Petrobras to add 14 FPSOs offshore Brazil in next four years | OilNOW
Mexico and Argentina also lead Guyana with expected investments at approximately US$135 billion and US$77.2 billion respectively.
Rystad expects the Guyana investments to vary between US$5 billion and US$10 billion each year in the period 2023-2030, with the highest projected investment year being 2025 at more than US$9.5 billion.
ExxonMobil, as Stabroek Block operator, is expected to invest approximately US$33 billion in the period, while Hess and CNOOC are expected to invest US$20.5 billion and US$16.8 billion respectively.
Exxon confirms 1.2 million barrels per day capacity for Guyana by 2027 | OilNOW
A very small fraction of investments is expected from CGX Energy, Frontera Energy Corporation, TotalEnergies and Tullow Oil, barring any commercial discoveries outside of the Stabroek Block in the lead up to 2030.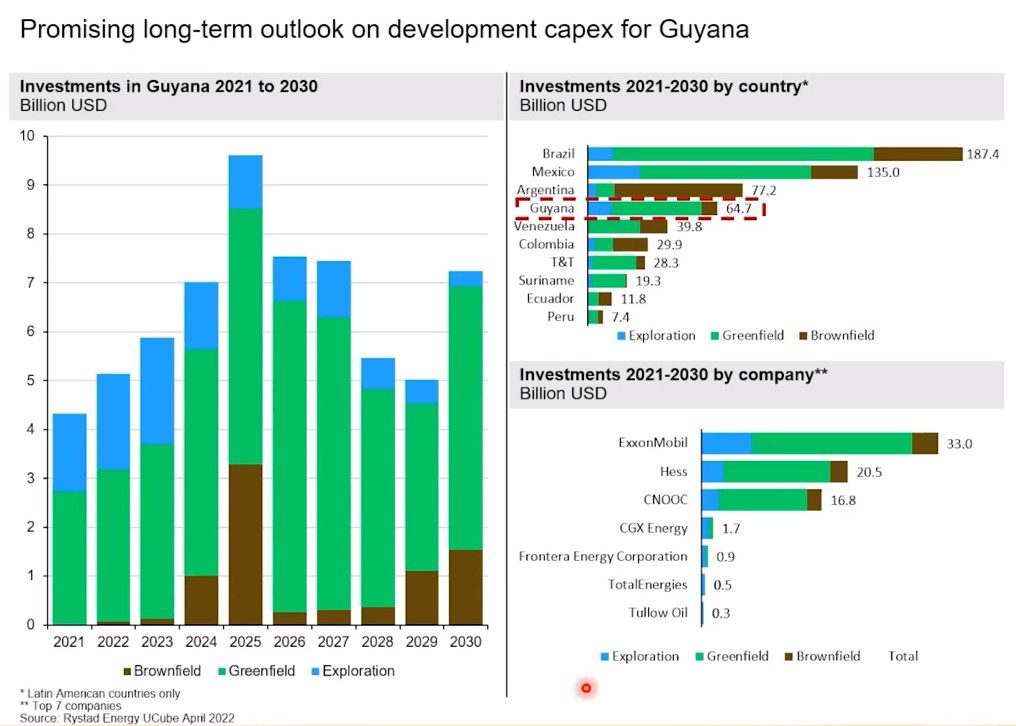 70% of these Guyana investments, it is projected, will be for production activities.
As for exploration, Forestiera said, "We expect exploration activity in Guyana to continue very strong in the next couple of years. It gained momentum again after COVID in 2020, and we expect it to continue growing."
Environmental impact of Exxon's proposed 24-well campaign 'negligible to low', says EPA | OilNOW
Comparing project exploration capital expenditure for the next few years, she said Guyana is third largest, mainly propelled by upcoming drill campaigns in the Stabroek, Canje and Kaieteur Blocks.
ExxonMobil has so far made more than 25 discoveries in the Stabroek Block and has a massive drill campaign planned for the next few years.
Forestieri said seven of the exploration wells Exxon has planned this year are wildcats.