Private sector representatives in Guyana are outraged over a leaked email from Chairman of the CARICOM Private Sector Organization (CPSO), Gervase Warner, who is quoted as stating that Guyana's Local Content Law contains several provisions that are in contravention with the Treaty of Chaguaramas. Since this sentiment is shared by the Executive Committee, Warner said the CPSO will raise its concerns with the Guyana Government and then ultimately with CARICOM.
Warner who is also an Executive Director of Massy Holdings and the President and Group CEO of the Massy Group, said Suresh Beharry, Chairman of Edward B. Beharry and Company Limited, will assist with the communications strategy to be ferried to the government.
Reacting to the contents of the leaked email, Guyanese private sector representatives expressed total outrage.
"If the Trinidad Private Sector or Government wants to challenge Guyana's Local Content Legislation, it's time the Guyana Government exit CSME [CARICOM Single Market & Economy] and review the benefits of Caricom," said Timothy Tucker, President of the Georgetown Chamber of Commerce and Industry (GCCI), in a Facebook post.
In another comment on the social media platform, Tucker said, "They are 200+ demand areas of work in the oil and gas industry, Guyana carved out 40 for Guyanese, (40) and it's a problem!!"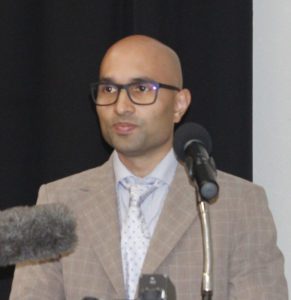 Meanwhile, former President of the Georgetown Chamber of Commerce and Industry (GCCI), Nicholas Deygoo-Boyer said the Local Content Law of Guyana affords Guyanese the opportunity to provide a select grouping of goods and services (within certain prescribed percentages) to the oil and gas industry. The businessman said the schedule in the law has 40 categories which were heavily reduced from the initial proposed number.
Deygoo-Boyer further articulated that overall, "the email to me shows ignorance of the mood, sentiments and aspirations of Guyanese people, and an arrogance that there is a God given right to this new industry in Guyana. Funny enough, large companies from other countries, far far larger than these regional conglomerates, have shown respect to the Guyanese people and worked with them in the spirit of partnership to grow capacity."
He added, "The most disrespect I have seen, has come from these conglomerates who feel a sense of entitlement, the same ones who ironically have destroyed small businesses in their own backyard, and thereby hurt their own oil industry; now they want to do the same to ours…Is it that they either are that desperate for a piece of the pie or do they feel that entitled?"
Guyana's Local Content Law came into effect on December 30,2021 and ring fences 40 critical areas in the oil sector as opposed to the previously recommended 153 categories for Guyanese to have guaranteed participation. These areas include transportation, visa and work permit applications, immigration support services, and customs brokerage services.
The categories with a 95 percent local content target are pest control and security services.
Those areas with a requirement for 90 percent participation by Guyanese include rental of office space, accommodation services (apartments and houses), janitorial and laundry services, catering, laydown yard facility, and legal services.
Ship and rig chandlery services, borehole testing services, environmental services and studies, accounting services, and medical services carry a 20 to 25 percent minimum local content requirement.
Oil companies have one year within which to comply with the law.