ExxonMobil's Stabroek Block operations are not only injecting new life into Guyana's construction, agriculture, and tourism industries, but its mining sector too. According to Atrium Research Corporation (ARC), a trusted provider of analysis for public equities in North America, Guyana is now regarded as a much more favourable mining jurisdiction, given its plans with respect to oil and gas.
In a January 2023 report, Atrium said the country's oil and gas revenues are driving substantial GDP growth and a wave of new transportation and energy infrastructure that supports reduced costs for other industries. "The influx of cash has allowed the country to start developing infrastructure which was otherwise non-existent; this includes paving roads and highways and developing power plants for a more sophisticated power grid," the report stated.
Accelerated oil development pushing growth in tourism, mining, construction sectors – Report | OilNOW
Given that there have been few major gold discoveries in the last decade, the report states that miners are turning their focus to underexplored jurisdictions to find the next generation of large-scale gold camps. "We believe the Guiana Shield is the next frontier for major gold discoveries and it seems major companies are beginning to position themselves accordingly," the report stated.
Major mining companies already involved in Guyana include Barrick Gold which has joint ventures with both Reunion Gold and Troy Resources, ARIS Gold, and Zijin Mining which acquired Guyana Goldfields.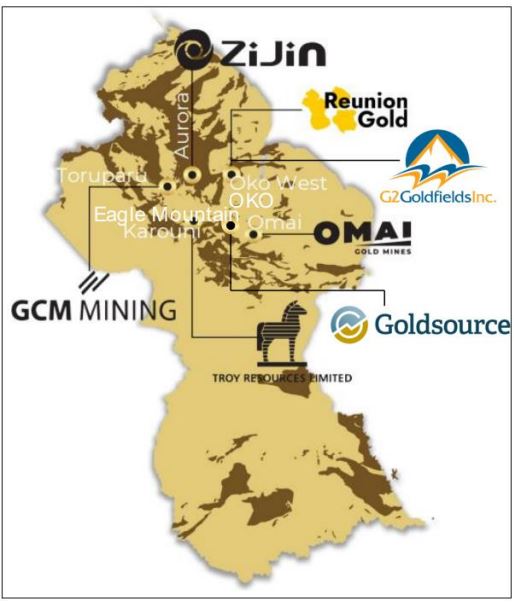 Since 2015, over 11 billion barrels of oil equivalent resources have been discovered by ExxonMobil and its partners in Guyana. The significant scale of these developments in the Stabroek Block has also paved the way for a partnership between the State and Exxon to build an underwater pipeline to shore, which will feed gas to a processing plant and power plant that will generate up to 300 MW of electricity.
Guyana's Gas-to-Energy Project: Your Questions Answered | OilNOW
The ensuing economic benefits from that Gas-to-Energy Project along with other critical upgrades in the coming years are expected to lure more deep-pocketed investors to these shores.
Atrium believes the Guyana Government's sentiment towards foreign investment and mining has never been stronger, while alluding that the country is on the brink of a transformative future.