The Yellowtail and Redtail fields will be developed with approximately 41 to 67 development wells drilled from six drill centers, each with separate production, gas re-injection, and water injection manifolds. According to the preliminary field layout for the Project facilities, this includes representative development wells, subsea umbilicals, risers and flowlines (SURF), and a spread moored floating production storage and offloading (FPSO) unit.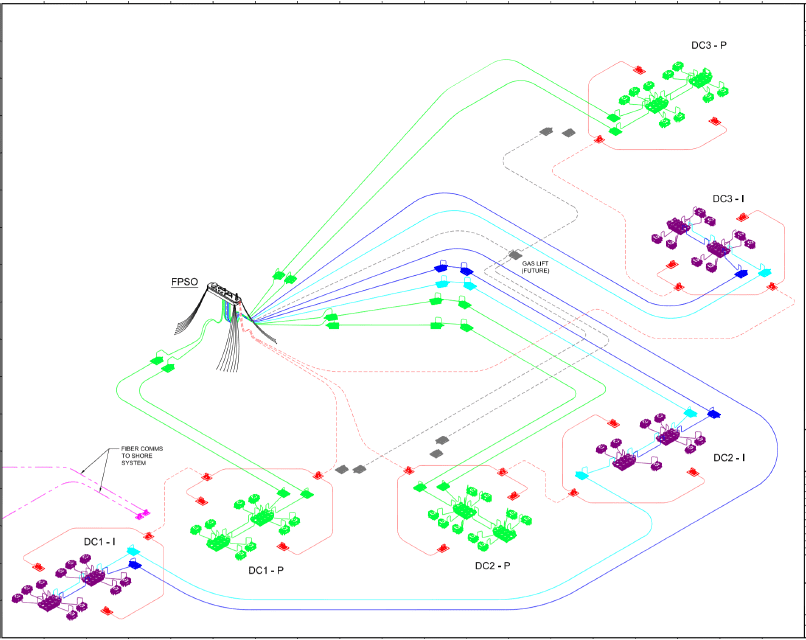 The FPSO will support the topsides facilities, process the produced fluids from the production wells, and store the processed crude oil until offloading. Offloading of the processed crude oil for export will occur directly to conventional tankers. Subsea production, gas re-injection, and water injection wells and manifolds will be linked directly to the FPSO via flowlines and risers.
Surge in FPSO awards to double fabricators' pipeline, Yellowtail next in line for Guyana
The vessel will be designed to accommodate an annual average capacity of 300,000 barrels per day (48,000 cubic meters per day [m3/d]) for total liquids production (250,000 barrels per day [40,000 m3/d] and 225,000 barrels per day [36,000 m3/d] of oil and water production, respectively), 300,000 barrels per day [48,000 m3/d] for water injection, and 450 million standard cubic feet per day (12.7 million standard cubic meters per day [MMsm3/d]) for gas processing.
Giant Yellowtail FPSO will produce up to 7.5 million barrels of oil per month during early stage of operations
ExxonMobil Guyana and the Environmental Protection Agency (EPA) hosted the first of several public information sessions on the Environmental impact Assessment (EIA) submitted for the project, on Monday in Georgetown.
When the project comes online in 2025 it will add to the 120,000 bpd from Liza Phase 1, 220,000 bpd from Phase 2 of the Liza Development and 220,000 bpd from Payara, ramping up total production to more than 800,000 bpd.