Crane Worldwide Logistics (CWW) has collaborated with SBM Offshore to ship several thousand gloves and masks to the South American country of Guyana to aid in the national COVID-19 response measures.
The Personal Protective Equipment (PPE) was shipped via the United States to Guyana on behalf of SBM Offshore for donation to the Civil Defence Commission which is the lead agency in the South American country for the national COVID-19 response.
"As part of a joint initiative with SBM Offshore to give back to the Guyanese community during the challenging COVID-19 environment, CWW shipped this cargo at cost," Tanya C. Thomé, Regional Director for Latin America, said in a comment to OilNOW.
She said due to limited flight options a solution was found to ship the cargo to Los Angeles, California, then onwards to Guyana. "From this location, we trucked the cargo to Miami, Florida where it was loaded onto a cargo plane to Georgetown," Thomé pointed out.
The CWW Regional Director said strict export and import control of the medical PPE were in place for all countries in route to Guyana. This, she said, required the CWW team to work around the clock to obtain permission for export release of the cargo.
The PPE supplies arrived in Guyana on May 18 and SBM Offshore handed over the items to the CDC on June 3.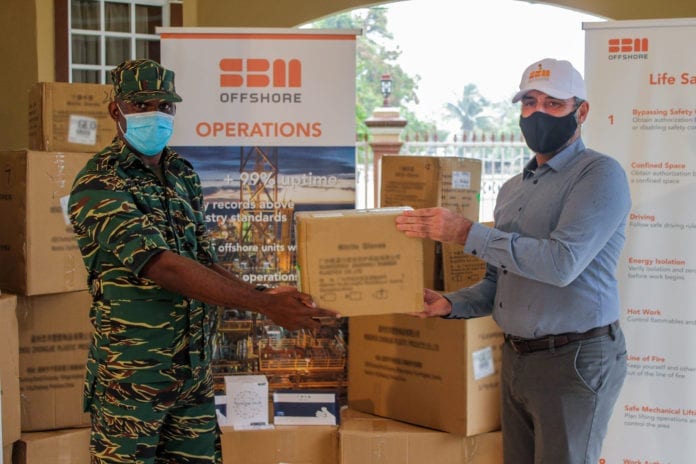 "The safety and health of everyone during this pandemic is a top priority. SBM Offshore is happy to provide personal protective equipment to the CDC to help with its important COVID-19 response in affected communities," SBM Offshore Country Manager, Herve Laurioux, said. "We would like to thank Crane Worldwide Logistics for the integral role it has played in getting the PPE supplies to Guyana."
SBM Offshore is the builder and operator of the Liza Destiny FPSO which is currently producing oil at the Stabroek Block some 120 miles offshore Guyana.