The rapid development of oil and gas resources is not only high on Guyana's agenda but that of some of the world's most powerful nations.
In fact, Guyana ranks sixth on a list of 30 big oil-producing countries pursuing new developments, even as the world transitions to renewable energy and environmentalists bump up calls in the South American nation for the oil to be left in the ground.
The list compiled by Norway's Rystad Energy ranked the top countries where new projects were approved or expected to be approved in 2022 and 2023.
Qatar runs in the lead with its developments expected to produce over six billion barrels of oil over the project life. Saudi Arabia comes next with projects expected to produce over four billion. Brazil, in third, has a similar production ranking.
The United Arab Emirates (UAE), Norway and Guyana all have developments expected to produce over two billion over the project life. Guyana's projects include the Yellowtail development that taps into two reservoirs – Yellowtail and Redtail, and Uaru that is expected to tap the Uaru, Mako and Snoek reservoirs.
Other big names on the list include the US with its Willow project, China, Russia, India, Canada, Mexico and the United Kingdom among others.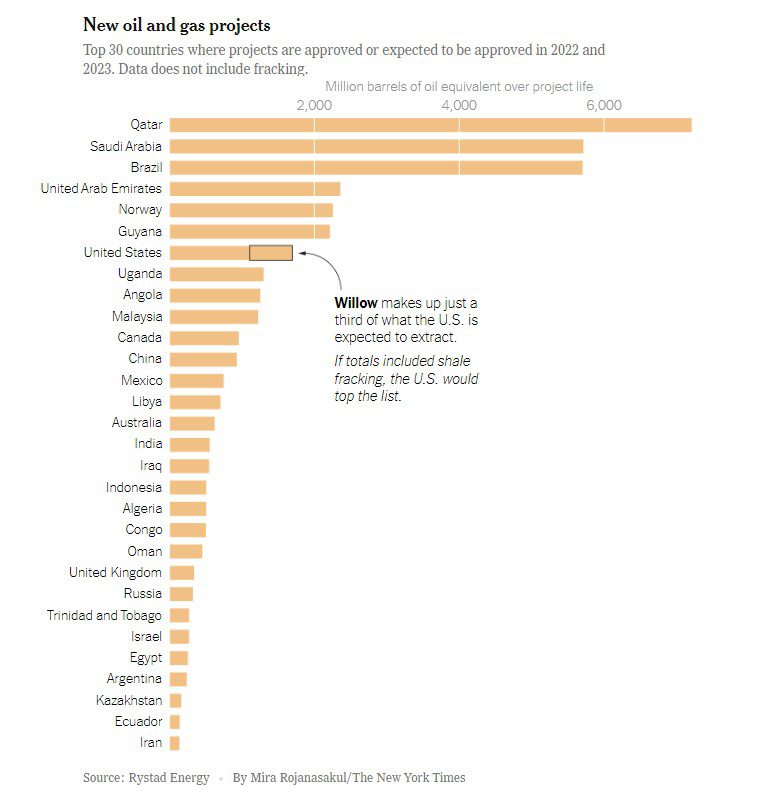 The global contention is that oil and gas production should be phased out to make way for renewable energy which would help reduce the impact of climate change. The call for a slowdown in oil and has projects mainly comes from developed countries that have built strong economies from their own hydrocarbon resources. And those countries also account for a large chunk of the greenhouse gas emissions contributing to climate change.
Study confirms Guyana would remain carbon sink at peak Stabroek Block operations | OilNOW
Developing countries like Guyana, and its neighbour Suriname have argued that they must be allowed to do the same – build out strong economies and provide improved livelihoods for its people.
The point was recently reiterated by Ghana's president, Nana Akufo-Addo, who made the argument clear to US Vice President Kamala Harris who visited the nation. Fossil fuels were a resource "which my government is seeking to use as the basis to transform its economy," he said, standing by Harris's side. Their extraction would help his country wean itself from reliance on foreign aid, he said.
Guyana has an advantage. While pursuing its rapid oil production agenda, Guyana is a carbon sink with its Low Carbon Development Strategy (LCDS) poised to ensure a smooth transition to renewables. It already has several renewable energy projects in play and others planned for implementation in the coming years.