The International Court of Justice (ICJ), as part of a formal process in the first stage of proceedings, will study the question of jurisdiction regarding the Guyana-Venezuela border controversy case currently engaging its attention.
The oil-producing nation of Venezuela announced on June 18 that it will not be taking part in the proceedings at the ICJ since the Court, it said, lacks jurisdiction over an action that does not have Venezuela's consent.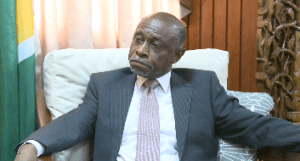 Guyana's Minister of Foreign Affairs, Carl Greenidge, during an interview at his office in the country's capital, Georgetown, on July 1, said, "The Court, as a first stage looks at jurisdiction and the question of jurisdiction. That is the formal process that they look at and that will take them until next February."
In a press release on July 2, the ICJ said it has decided that the written pleadings in the case concerning the Arbitral Award of October 3, 1899 (Guyana v. Venezuela) must first address the question of the jurisdiction of the Court and fixed the time-limits for the filing of these pleadings. By an Order dated June 19, 2018, the Court fixed November 19, 2018, and April 18, 2019, as the respective time-limits for the filing of a Memorial by the Co-operative Republic of Guyana and a Counter-Memorial by the Bolivarian Republic of Venezuela.
Mr. Greenidge also stated that, while he regrets Venezuela's decision, the Court has indicated to that country that its rights include the possibility of participating in the process at any time going forward.
He also noted that "If Venezuela does not participate in the deliberations it is likely that the exercise will take less than six years. If they participate; whether they do it now or decide to participate down the line, it may add to the length of time that could now be possible so we are speaking maybe 3 to 6 years, depending on what Venezuela does."
Guyana has already indicated that it will continue to represent its position at the ICJ with or without Venezuela's participation.
Giving a brief update on the actions of its legal team, Mr. Greenidge said it is working tirelessly to ensure Guyana secures a victory in this matter. "They are doing the necessary background work. They will be required to make a submission to the ICJ in the course of the next nine months and after the presentation of memoranda the ICJ will indicate when it is ready to hear or put questions to the lawyers."
Following the June 18 announcement by Venezuela, Guyana pointed out that under Article 53 of the Statute of the Court, "whenever one of the parties does not appear before the Court or fails to defend its case, the other Party may call upon the Court to decide in favour of its claim." Guyana has said it intends to proceed in accordance with the said Article.