Closing out 2022, ExxonMobil produced 11.5 million barrels of oil from the Stabroek Block Liza projects, averaging 371,400 barrels per day (bpd).
From Liza Phase 1, the Liza Destiny floating production, storage, and offloading (FPSO) vessel extracted 4.286 million barrels, averaging 138,240 bpd. From Liza Phase 2, the Liza Unity FPSO extracted 7.228 million barrels at 233,150 bpd. Production on the SBM Offshore built and operated vessels have been optimised over the months, which has seen output reach record levels for Guyana.
Competitive fiscal terms pushing pace of development in Guyana 'super basin'- S&P Global | OilNOW
For the full year, the projects produced 101.4 million barrels. Two-thirds of this output came in the second half of the year, as both projects achieved background flare and ramped up to capacity. The projects produced 34.6 million barrels in the first half, and 66.7 million barrels in the second half. The Destiny and Unity demonstrated consistency in producing above their respective capacities of 140,000 bpd and 220,000 bpd for weeks at a time.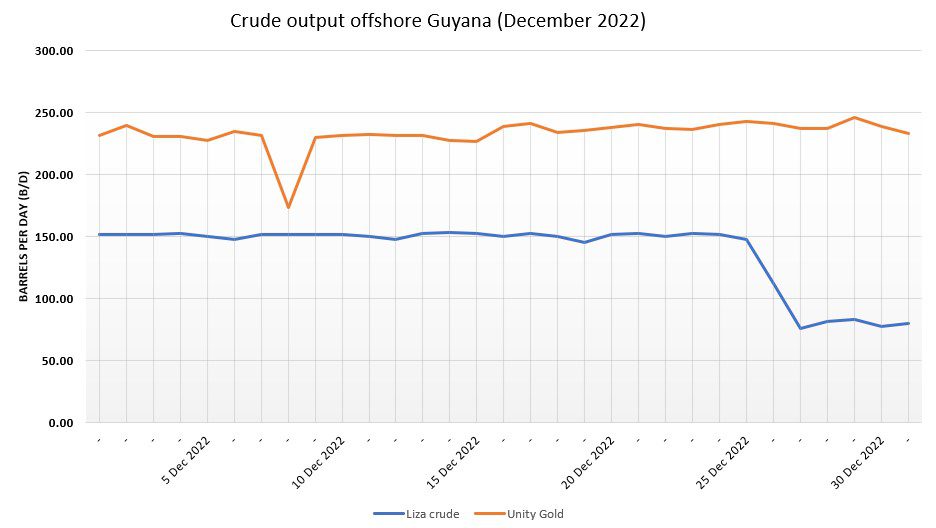 The oil and gas sector delivered better than expected performance, with the government estimating a 124.8% expansion over 2021, during which 4.7 million barrels were produced from the lone Liza Phase 1 project.
Guyana Oil & Gas: What to look forward to in 2023 | OilNOW
Consistent production at capacity is expected for the Liza projects in 2023. The Prosperity FPSO will also join the Liza vessels in the Stabroek Block and will ramp up to capacity in the second half of 2023. This will take Guyana's output to 580,000 bpd. Government expects there to be 500 one-million-barrel lifts from average full year production of 374,000 bpd. The sector is projected to grow 35.6% in 2023.
ExxonMobil has a 45% operating stake in the Stabroek Block, while Hess and CNOOC hold 30% and 25% respectively.