ExxonMobil's recent oil discovery at the Ranger-1 reservoir offshore Guyana is particularly significant because it demonstrates that potentially significant commercial quantities of crude is contained in a different type of play on the Stabroek Block.
The estimated total 3.2 billion recoverable oil-equivalent barrels discovered so far in the Stabroek Block stems from 5 discoveries, starting with the world class Liza find, located some 60 miles from Ranger in a completely different play. The Ranger-1 discovery brings ExxonMobil's total discoveries so far to 6 in the Stabroek Block.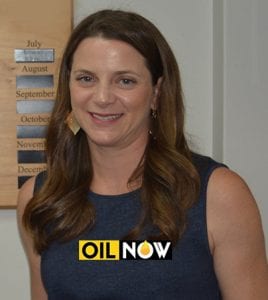 Commenting on the Ranger-1 discovery, Kimberly Brasington, ExxonMobil's Senior Director, Public and Government Affairs in Guyana told OilNOW, "Ranger is a different type of play for ExxonMobil in the Stabroek Block. The other 5 announced discoveries have all been in the same area and similar plays…to me that's what's exciting about this; that it's a different part of the Stabroek Block – 60 miles North West …"
There remain, she said, many unknowns as it relates to Ranger, and the company will be closely studying the data before details about the estimated quantity of crude and whether it is commercial, are known.
"It's farther out, it is in deeper water and so from a technology stand point, it takes that much more to be able to commercialize it because that is going to incur likely higher costs," Ms. Brasington said.
Ranger is located in a carbonate play whereas the previous discoveries in the Stabroek Block have been in sandstone reservoirs.
According to Texas-based oil services company Schlumberger Limited, exploration and evaluation programs for carbonates are similar to those for sandstone reservoirs. However, new tools, techniques, and interpretation methodologies are required to address the specific challenges above to drill and produce these reservoirs optimally.
It is estimated that more than 60% of the world's oil and 40% of the world's gas reserves are held in carbonate reservoirs. The Middle East, for example, is dominated by carbonate fields, with around 70% of oil and 90% of gas reserves held within these reservoirs.