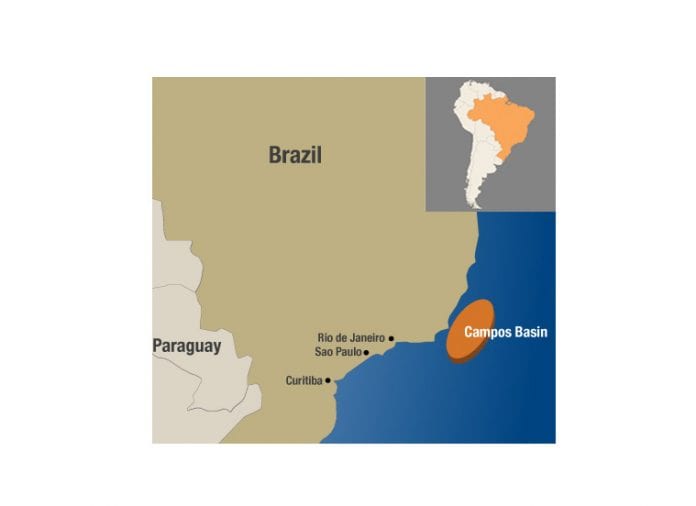 Wood Mackenzie contends that Brazil's mature Campos basin oil fields could produce an extra 230,000 boepd with the right investment, reports Rigzone.
Spending $8 billion to redevelop the mature oil fields in Brazil's Campos basin rather than incurring that amount in decommissioning costs could unlock 5 billion barrels of oil to the basin reserves, according to a new report from Wood Mackenzie.
"As more productive plays have been discovered over the past decade Petrobras' investment focus has shifted away from Campos to the more prolific Santos basin, leading to the early cessation of production in many Campos fields and the decommissioning of 32 platforms over the next decade," said Luiz Hayum, research analyst with Wood Mackenzie's Latin America upstream oil and gas team.
Hayum is the lead author of the report "Brazil's mature Campos basin oil fields: decommission or redevelop," which concludes that most Campos fields will be decommissioned by 2025 at a cost of $8 billion barring further development. The report asserts that dedicating that amount of money to redevelopment starting next year, however, could boost the mature fields' production by 230,000 barrels of oil equivalent per day (boepd) by 2025 and postpone 60 percent of the decommissioning costs to beyond 2030.
"The potential is even greater if technologies perfected in other regions are successfully deployed in the Campos basin," Hayum continued. "According to our analysis, if recovery factors in the basin were increased to similar levels of analogue fields in the U.S. Gulf of Mexico (GOM) and the North Sea, an additional five billion barrels of oil could be recovered."
According to the report, several actions are already underway to redevelop mature fields in the Campos. The actions include:
4D seismic to identify bypassed oil pockets
Infill drilling
Water flooding optimization
Increasing platforms water handling capacity
Furthermore, the report's authors contend that future use of enhanced oil recovery (EOR) techniques can bring additional upside to production.
Petrobras and Equinor have launched a technical collaboration in the Roncador oil field in the Campos to use infill drilling and 4D seismic to extend the life of field, Wood Mackenzie noted. The report finds successfully deploying these technologies will extend Roncador's life by eight years and add 500 million boe to the field's reserves, boosting the net present value at a 10-percent discount rate (NPV10) by US$1.6 billion.
"Drilling these new wells is economic and a proposed royalty reduction from 10 percent to five percent for mature fields undergoing redevelopment could further incentivize activity," said Hayum. "The royalty reductions could also increase returns on these wells by three percentage points on average."
Authors of the Wood Mackenzie report also maintain that small operators are in the early stages of pursuing mature field redevelopments in the Campos that lack the scale the majors and large independents prefer – a trend that is also occurring in GOM and the North Sea as larger operators focus on deepwater assets.
"The Campos basin's smaller shallow-water resource opportunities, which are too small for Petrobras or the majors, present a great opportunity for small-cap operators," said Hayum. "In the U.S. Gulf of Mexico Shelf, private equity (PE)-backed operators and small private and public companies are playing a larger role. In Brazil, we're beginning to see the same trend. Several PE-backed companies are currently negotiating with Petrobras the acquisition of its Campos basin shallow-water assets."
In addition to outlining the benefits of redevelopment over decommissioning for operators, the report's authors also contend that Brazil's government would win from the emerging trend. The analysis finds that redeveloping the Campos basin's mature fields could translate into $3 billion in new royalties and 30,000 additional jobs by 2025. (Rigzone)