A heightened tourist footprint in Guyana, a new oil producer and the world's fastest-growing economy, is pushing the South American nation's hospitality industry further.
By 2025, the Sheraton Hotel and Resort brand will be present in Guyana.
Marriott International Inc. – the owner of the Sheraton chain sealed the deal on June 3 with H-Towers, a locally owned company and its US-based partners, the Triwest Financial Group Inc. and Black Pearl Holding Co., to bring the iconic hotel experience to Georgetown.
The two-towner new build project with a 200-room Sheraton Hotel and 224 residences is expected to break ground by the end of 2022, expanding the brand's portfolio in Guyana.
New oil province undergoing dramatic modern transformation | OilNOW
"We are pleased to expand our presence in Guyana and bring a new brand to this exciting destination," said Laurent de Kousemaeker, Chief Development Officer (CDO) of Marriott International, Caribbean and Latin America. "The signing of this new project is a significant moment and the brand's rich heritage is an excellent fit for this growing market."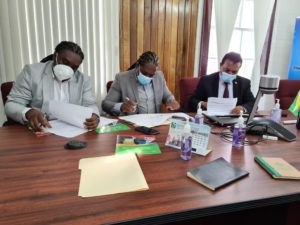 The luxury hotel is expected to feature a mix of king and double rooms along with several suites including a Governor's suite and a sophisticated Sheraton Club Lounge. It will also include a swimming pool, 24-hour fitness center, specialty restaurant, meeting and conference rooms, a state-of-the-art spa, and the brand's signature bar, coffee, and market concept. The selected location is set to be Providence, East Bank Demerara.
Houston, wider East Bank morphing into major corridor of oil and gas development in Guyana – Bharrat | OilNOW
"We are very honoured to be given the opportunity to bring such a recognisable brand to the market, knowing the impeccable standards Guyanese and international guests alike will enjoy," said Kerwin Bollers, Executive Director of H-Towers at the signing.
According to the developers, the Sheraton Hotels & Resorts brand creates an intuitive and holistic experience with spaces to connect, be productive, and help travelers feel connected to the local community.
"In addition to seamless technology integration and an elevated food and beverage philosophy, the layered design balances a sense of timelessness with a fresh and modern feel, that aims to make guests feel comfortable and at ease, whether working, meeting or relaxing," a release noted.
The project was birthed to respond to Guyana's need for more accommodation and hotel rooms to align with the country's rapid oil and gas expansion. This led to an Expression of Interest (EOI) being launched by the Guyana Office for Investment (Go-Invest) back in 2021.