The Stabroek Block's Liza projects continue to demonstrate consistently high oil production levels. In February, the daily production rate jumped 5% to 390,000 barrels per day (b/d) from 372,000 b/d in January. 
The February production rate represents the highest of any month since oil production started offshore Guyana.
Total production for the month, of 10.92 million barrels, was however lower than January's 11.53 million barrels, simply because the month had less days. For the year, the Stabroek Block has produced 22.45 million barrels of crude.
The Liza Phase 1 project averaged 153,260 b/d, totaling 4.29 million barrels. Phase 2 averaged 236,830 b/d, totaling 6.63 million barrels.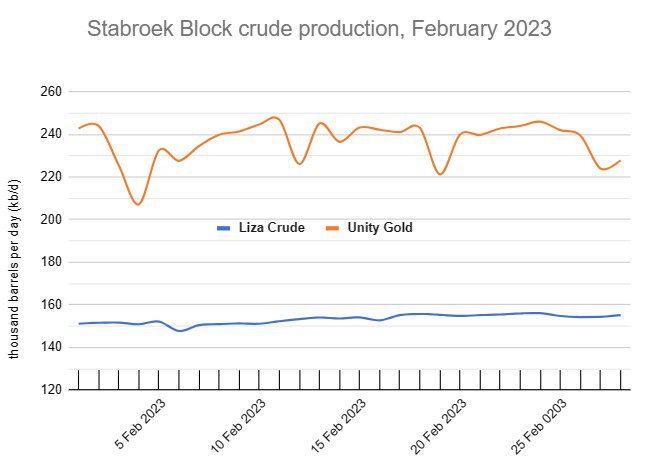 The projects reached a combined peak of 402,080 barrels on February 24.
Notably, the Liza Phase 1 project, which was initially expected to produce 120,000 b/d, demonstrated production levels above 150,000 b/d for every day but one, in February. This was achieved through debottlenecking in 2022, Phase 2 is also expected to undergo production optimisation in the final quarter of 2023. All of the impact studies compiled for Stabroek Block projects allow scope for production levels to increase beyond initial design rates. Therefore, ExxonMobil, the operator, is expected to pursue optimisation for all projects.
As operator with a 45% stake in the Stabroek Block, Exxon is partnered with Hess (30%) and CNOOC (25%).