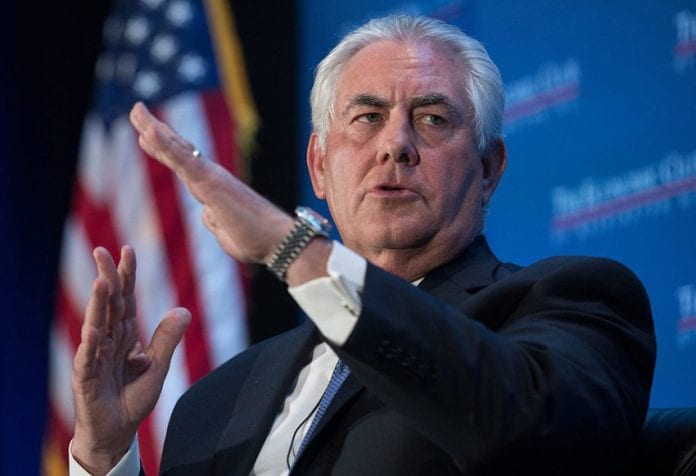 The removal of Rex Tillerson as US Secretary of State could alter the administration's plans for sanctions on Venezuela's oil sector, analysts have said.
Tillerson, the former CEO of ExxonMobil, had become a leading advocate for sanctions on Venezuelan exports in recent weeks.
The administration was looking at how to "mitigate the impact [of sanctions] on US business interests, but also there are other regional countries that it would affect as well, and we want to be mindful that…we do not want to harm them with an action we take either," Tillerson said during a press conference in Buenos Aires last month, reports S&P Global Platts.
Joe McMonigle, an analyst with Hedgeye Capital said that with Tillerson's departure and last week's departure of White House National Economic Council Director Gary Cohn, who did not support oil-sector sanctions on Venezuela due to the impact on the US refining sector, Trump "seems to have shifted on getting tougher on Venezuela in the coming weeks."
In an interview with the Platts Capitol Crude podcast last month, George David Banks, a former top energy adviser to Trump, said the administration has been weighing the impact of any potential sanctions on Venezuela's oil sector with the impact they may have on US Gulf refiners.
"I think there are a number of reasons why the US has to think carefully through any kind of approach to Venezuela that would impact the flow of oil and petroleum products back and forth," said Banks, who stepped down as White House Special Assistant at the National Economic Council and National Security Council on February 13. "How much of a negative impact are you actually going to have on Venezuela and how much of a negative impact are you going to have on the [US] Gulf Coast?"
Amy Myers Jaffe, a senior fellow for energy and the environment at the Council on Foreign Relations, said Tillerson was poised to have more significant influence on any Venezuela policy than he could have had on Iran.
"There are a lot of voices on Iran," she said, pointing to the Pentagon, national security advisers and Congress. But "the State Department was handling Venezuela."
Jaffe said his departure likely complicates the US strategy, leaving the White House to answer key questions like whether any US refiners would need to borrow heavy crude from the Strategic Petroleum Reserve in the event of sanctions.
Last month, Tillerson toured Latin America and rallied leaders on pressing for democratic reforms in Venezuela.
"It's not that we start from scratch, but you lose a certain amount of momentum when you have to go back to those same leaders with a different team," she said.