During a recent state visit by Guyanese officials to the United Kingdom, British investors signalled their intention to invest in Guyana's oil and gas sector. Late April, First Vice President and Minister of Foreign Affairs, Carl Greenidge accompanied Guyana's President, David Granger, on a five-day state visit.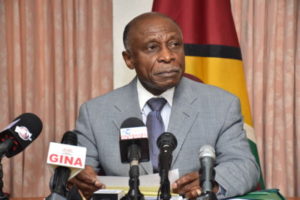 Minister Greenidge, at a recent press conference, noted that British and Irish company Tullow Oil has shared when they expect to commence exploration. Tullow Oil has interests in the newly defined Kanuku and Orinduik Blocks offshore Guyana.
According to a Government Information Agency (GINA) report, Minister Greenidge noted that at the meeting with investors Tullow, "Spoke to its involvement in Guyana, where it started and when they expect to commence exploration having completed their exploratory work on the shelf."
Minister Greenidge noted that investors also shared their "expressions" of the experiences and challenges they faced in investing in Guyana. The Minister explained that the meetings were not technical, that is, no monetary pledges were made by the investors, rather it was more of an information sourcing meeting, GINA said.
"We explained things, we tried to clarify issues that were raised. The discussion was fairly exhaustive," Minister Greenidge said.
Investors also signalled their interests in investing in other sectors like mining.
The President had addressed investors and others at the Caribbean Council's Annual Reception at the House of Lords with a view towards supporting the region's economic development. (GINA)