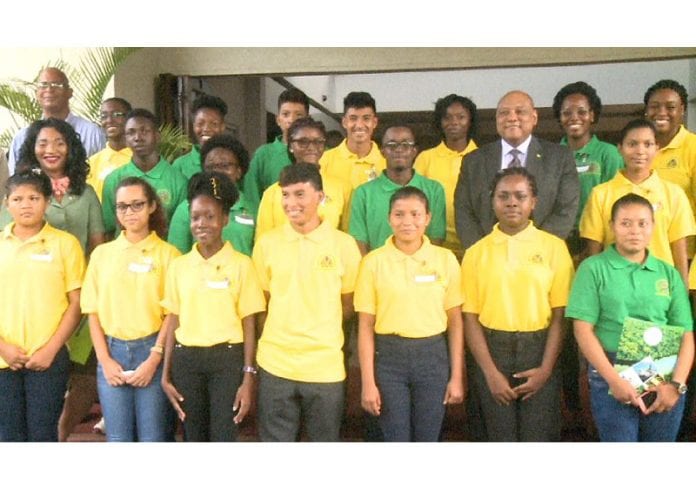 Twenty-six young people will be introduced to the functioning of the Petroleum industry and its basic operations through the Ministry of Natural Resources' (MNR) 2018 Youth Apprenticeship Programme which was launched on Monday, August 06, 2018 at the Pegasus Hotel, Kingston, Georgetown.
The Ministry has teamed up with ExxonMobil, CGX, the University of Guyana's Science and Technology Department and Institute of Applied Science and Technology, the Guyana Technical Institute, the Environmental Protection Agency, the Guyana School of Agriculture, and Guyana Geology and Mines Commission, among others, to make the programme a reality.
Featured in the curriculum for the programme is the 'Introduction to Oil and Gas Shore Base Logistics' as well as 'Understanding MNR compliance and the functioning of the Petroleum Department.'
The apprentices, which is the second batch for the programme, will also be exposed to an overview of the Ministry's policies, Community Development Activities, the basics of Corporate Communications and Media Relations as well as the importance of Science and Technology in effectively managing our resources
As part of their apprenticeship, the youths will be visiting ExxonMobil's supply base.
Speaking at the launch of the programme, Minister of Natural Resources stated that it is his vision "to involve young people in the Natural Resources sector."
"Essentially, it is my hope that you fall in love with your country," he stated, adding, "You must see the natural resources sector as something that is a worthy endeavor."
He encouraged young people to get involved in the O&G sector, saying "We want you to appreciate that mining and forestry…and we have representatives from ExxonMobil here drilling for oil and exploring and developing oil wells; all of these are healthy and good endeavors that we should all aspire to become. I'm a lawyer by profession but engineers and foresters and environmentalists and people who love geography are sometimes more important than lawyers and accountants and doctors. "
The apprenticeship programme began in 2017 with 16 youths aged 15 to 18 benefiting from the initiative.