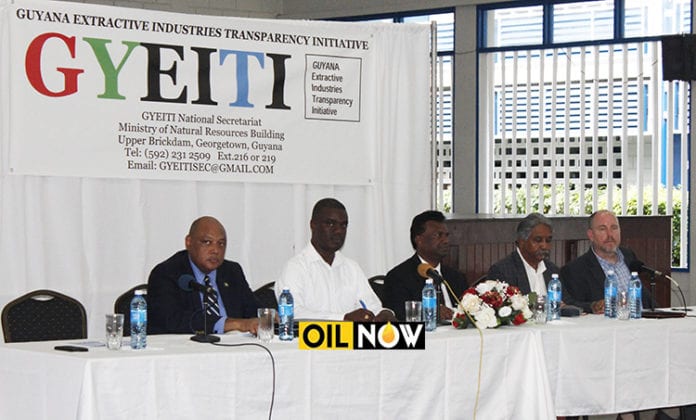 As Guyana seems well on its way to becoming the 53rd country in the world to attain Extractive Industry Transparency Initiative (EITI) candidacy, a leading adviser supporting this process says implementing countries are now required to do much more in the area of transparency. He told members of the public at an EITI forum in Georgetown, Guyana on Thursday, that EITI is encouraging member countries to publicly disclose oil, gas and mineral exploitation contracts as well as beneficial ownership of concessions.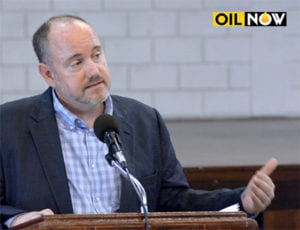 Jason Calder, country representative of the Carter Center in Guyana said, "EITI now is going beyond just this revenue accounting exercise and countries are supposed to report on contracts in the extractive sectors; increasingly try to make those more transparent, increasingly disclosed…" He said there is guidance from the EITI Secretariat on how countries can go about doing this.
According to the EITI Standard 2016, reports from implementing countries should document the government's policy on disclosure of contracts and licenses that govern the exploration and exploitation of oil, gas and minerals. This should include relevant legal provisions, actual disclosure practices and any reforms that are planned or underway. It should also include an overview of the contracts and licenses that are publicly available, and include a reference or link to the location where these are published.
Mr. Calder further stated that a license registry outlining which company has been granted concessions should be publicly accessible. "Your practices in the area of license registry; making that information accessible…get it on a website so that somebody can look at a map of Guyana and click and say; ok, this area here, there is a concession, and we know who's got it, how long it is, and that sort of thing," he pointed out.
This type of public information will be particularly useful in Guyana's mining industry, which comprise small, medium and large scale mining operations scattered across broad geographic areas. The same can also be said for the emerging petroleum industry, since a number of companies are conducting, or have prospecting licenses to conduct exploration work offshore the South American country.
As of January 1, 2020, EITI will require that implementing countries request, and companies disclose, beneficial ownership information for inclusion in the EITI Report. This applies to corporate entities that apply for, or hold a participating interest in an exploration or production oil, gas or mining license or contract and should include the identities of their beneficial owners, the level of ownership and details about how ownership or control is exerted.
Information about the identity of the beneficial owner should include the name of the beneficial owner, the nationality, and the country of residence, as well as identifying any politically exposed persons. It is also recommended that the national identity number, date of birth, residential or service address, and means of contact are disclosed.
However, despite these and a raft of other measures, implementing countries are not bounded by any law to comply with EITI requirements. Becoming a candidate is voluntary and failure to comply could merely result in a suspension of candidacy, as was the case of Democratic Republic of Congo in 2013. In worse case scenarios, a country can also be expelled.
"Given the voluntary nature of EITI, backsliding is possible, and we've seen this in my own country (United States), where the new administration's commitment to EITI is in question and the USEITI process is in a bit of a rocky patch here," the Carter Center representative pointed out.
Nevertheless, he said research shows that EITI has served to create a "norm of transparency" globally, but while at the country level, the degree of transparency seems to be improving, accountability is still lagging. "Transparency yes, but accountability, more uneven, and I think this is a critical take-home…as you think about your own governance eco-system," he stated.
Guyana's Minister of Natural Resources, Raphael Trotman, speaking at the event, said government remains committed to the EITI process and will seek to meet the requirements it sets out. "We are interested in becoming a member of EITI and we are committed to doing the best we can in terms of abiding by the tenets and principles of this global organization," he said.
Guyana will officially submit its application for EITI candidature in August and is expected to attain EITI candidacy before the year comes to an end. After this, the country will then have to generate a report providing key information such as laws, fiscal management, licenses, contracts, and production and revenue data for the extractive industry.
The Guyana Extractive Industries Transparency Initiative (GYEITI) has held a series of countrywide community engagements, with the final one taking place at the Marian Academy in Georgetown on Thursday.