Not long after the Irfaan Ali administration assumed office in 2020, CGX Energy was granted an extension to its deadline to drill a well on the Corentyne block offshore Guyana. While it looks like CGX may need another extension – this time for the Demerara Block – the government does not plan to be as lenient.
Vice President Dr. Bharrat Jagdeo said that it is "none of our business" if the company "can't raise the money."
This was his response when OilNOW asked how government would treat with CGX if it can't meet its Demerara block commitments. The CGX-Frontera joint venture had noted during a technical presentation in May that it is more "enthusiastic about the potential of North Corentyne" where the Kawa-1 discovery was made, and where the JV plans to drill another well later this year.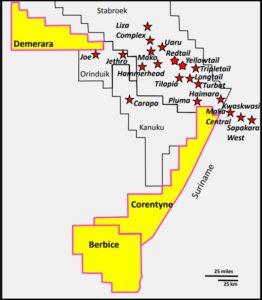 The JV said that while Minister of Natural Resources, Vickram Bharrat noted a requirement to drill two exploration wells at the Demerara block by February 2023, it has no plans to drill there in 2022.
CGX leaves narrow window to meet Demerara Block drilling commitments, with no wells planned for 2022 | OilNOW
"We'll just have to see what happens," CGX's Senior Technical Advisor Dr. Mark Zoback had said.
"Let me say to CGX publicly that they have had a long period here, and I'm very pleased that they have moved forward," Dr. Jagdeo said. "But if they don't meet their commitments, then there will be consequences."
He said CGX has been "nurtured" for a long time and must now meet all the commitments it signed up to.
"If they're not moving ahead as planned, there has to be really good reasons for them to retain the areas."
But if there are no extenuating circumstances, he said the block will have to be relinquished.
CGX currently operates three blocks, in partnership with Frontera Energy – Corentyne, Demerara and Berbice. Government has also been after the joint venture to honour commitments at the Berbice block.
Government wants CGX to carry out work commitments on Berbice, Demerara blocks | OilNOW
But with the Corentyne block appearing to be their best bet at a commercial development, the operator has placed all its focus there. And to secure a US$35 million loan from Frontera to finance works at Corentyne and the construction of a deepwater port, the operator bet all its assets, in a move that could see the minority partner expanding its ownership of CGX's shares.