Indian Oil Corporation Ltd. (IOC) has become the first Indian PSU refiner to buy a tanker load of Liza Crude from Guyana. One million barrels of oil from the South American country is now en route to India as part of IOC's efforts to diversify its sources of imported crude.
"We have procured 1 Suezmax of Guyanese Liza crude and have also entered into a term contract for 3 million metric tonnes of US crude for further diversification," chairman Shrikant M Vaidya said. The firm is bringing the Guyanese crude to its Paradip refinery in Odisha.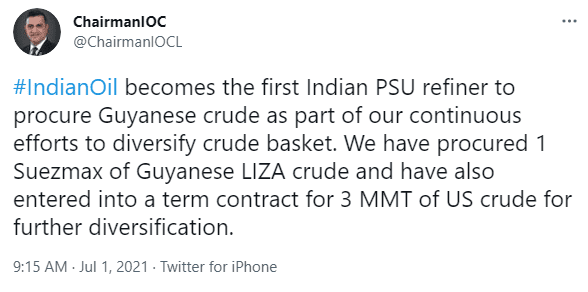 The High Commission of India in Guyana also said in a tweet on Sunday that this marks a significant step Indo-Guyana economic relations.
Vaidya had said in May IOC remains keenly interested in sourcing crude from "geopolitically relatively stable geographies" such as Norway, Brazil and Guyana, as it embarks on a strategic growth path that will aim to maintain focus on its core refining and fuel marketing businesses, while making bigger inroads into petrochemicals, hydrogen and electric mobility over the next 10 years.
He said IOC would look to pursue a crude diversification strategy that would suit its commercial needs, while keeping in mind the country's strategic and economic interests.
The world's third-largest crude consumer and importer has expressed interest in buying Guyana's Liza Crude as part of a long-term deal with the Guyanese government. The country is interested in working with authorities as well as commercial entities to forge an agreement that would facilitate these exports.
India's oil & gas demand is expected to increase nearly 3-fold from 229 million metric tonnes in 2018 to 607 million metric tonnes in 2040.