The North Sea Transition Authority (NSTA) which regulates and influences the oil, gas, and carbon storage industries of the United Kingdom said on Friday that it has added 34 more concessions to the 33rd bid round which opened on October 7, 2022.
That round initially offered 898 blocks.  Now, the total is 932.
The NSTA said the additional blocks will be available in the Central North Sea and Southern North Sea and would soon be made public following further consultations.
To encourage production as quickly as possible, the NSTA said it identified four priority cluster areas in the Southern North Sea, which have known hydrocarbons, are close to infrastructure and have the potential to be developed quickly.
In Cluster 1 – Greater Pegasus Area (Quad 43), it is predicted that it holds more than 200 billion cubic feet (bcf) recoverable gas from undeveloped discoveries located in geographical proximity.
In Cluster 2 – Greater West Sole Area (Quad 47 and 48), the authority said it contains undeveloped discoveries. This cluster is also discovery-led to facilitate the development of sufficient critical mass to provide production within 5 years. It potentially holds more than 350 bcf of recoverable gas. Cluster 3 – Greater Cygnus Area (Quad 43 and 44) is also predicted to have the same amount of gas.
In Cluster 4 – Cotton Area (Quad 42 and 43), it was noted that it has potentially >100 bcf recoverable gas from undeveloped discoveries and hydrocarbon fields located in geographical proximity.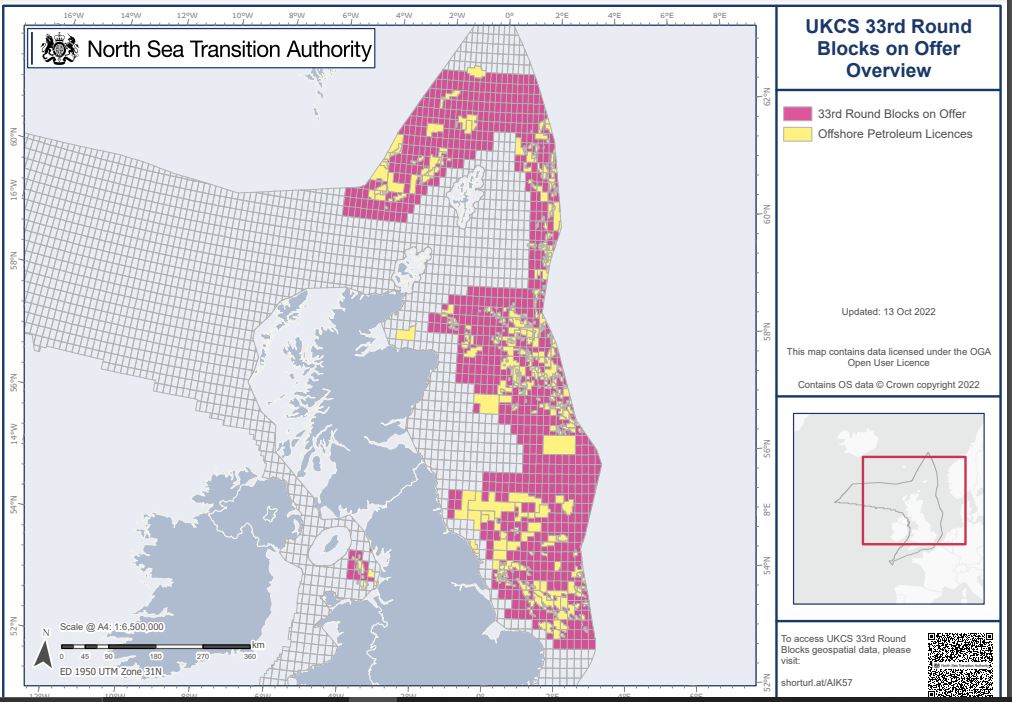 Excluding the 34 blocks, NSTA's 33rd Bid Round is looking to unlock at least one trillion cubic feet of gas. This is despite calls by environmentalists and the United Nations for no new oil and gas projects to come onstream due to net zero obligations.
The massive auction comes at a time when Europe is gripped by an energy crisis due to Russia's invasion of Ukraine. This unfortunate event which started in February has resulted in Europe being starved of its regular supply of cheap gas. Europe, now scrambling to import oil and gas resources from Guyana and other territories, will no doubt feel further economic pains with OPEC+ agreeing to slash production output by two million barrels of oil per day. This is expected to keep oil prices high.
UK authorities have also said the war reinforces the need to strengthen sovereign resources for energy independence.
The application period for the latest bid round runs until 14:00 hrs GMT on Thursday, January 12, 2023. It is expected that the first set of licences will be awarded from the second quarter of 2023.