With close to 11 billion oil-equivalent barrels discovered in the Stabroek Block offshore Guyana, ExxonMobil is forging ahead with development plans, in keeping with the objective of the government to bring the resources to market in the shortest time possible.
Approximately 3.9 billion oil-equivalent barrels (35% of proven reserves) have been committed to developments.
The Liza Phase 1 and 2 projects, both already producing, are tapping into approximately 450 million and 600 million barrels of oil respectively.
Payara and Yellowtail, which are coming on stream in 2023 and 2025, will target 600 million and 925 million barrels. These two projects include the Pacora and Redtail discoveries as subsea tiebacks, meaning the discoveries will be tapped into from the main production center without requiring their own floating production vessels.
These first four approved projects will have combined output of around 830,000 barrels of oil per day, with potential to further increase as production capacity is optimised.
Uaru, ExxonMobil's fifth project, will be targeting three discoveries – Uaru, Mako, and Snoek – comprising about 1.3 billion barrels. Unlike the other projects, Uaru is pending approval. The Stabroek Block partners expect to submit the field development plan to the government before the end of the year. It is expected to have production capacity of 275,000 barrels of oil per day and will come on stream in 2026.
In terms of uncommitted barrels, approximately 7.1 billion barrels remain.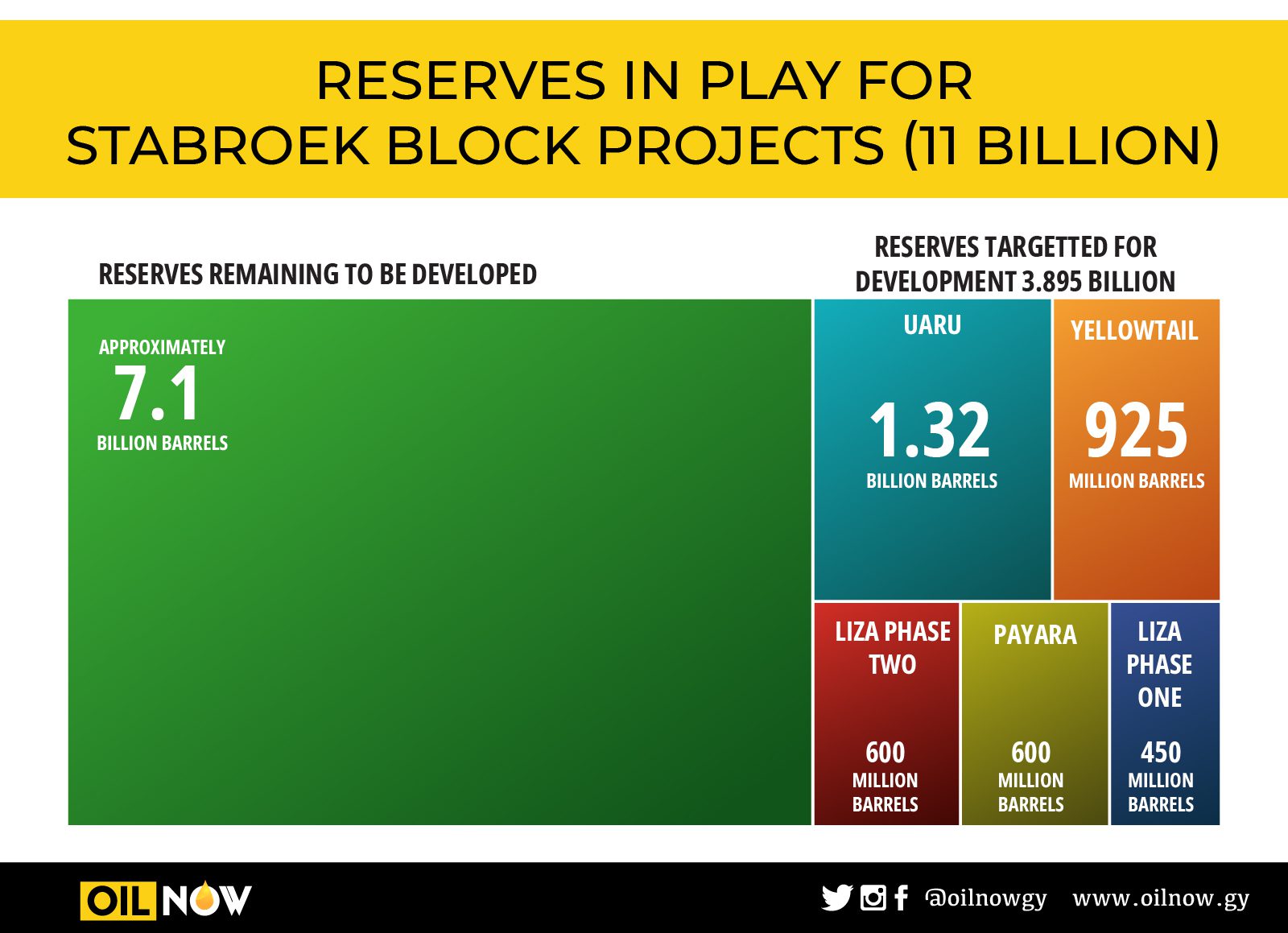 ExxonMobil plans to have six floating production, storage, and offloading (FPSO) vessels operating offshore Guyana by 2027, with capacity to produce 1.2 million barrels of oil per day. Chief Executive Officer for Hess Corporation, John Hess, said he hopes the plan for the sixth Stabroek Block project will be submitted and approved by the end of 2023.
Closer to the end of the decade, the partners see potential for 10 FPSOs operating offshore Guyana.
In its industry benchmarking update for Guyana, published in July, Rystad Energy said that Guyana's discoveries account for 18 of the top 30 largest offshore oil discoveries globally since 2015.
Of uncommitted discoveries, Rystad Energy estimates that Longtail and Hammerhead as the largest, with 549 million and 501 million barrels. The energy intelligence firm projected that the Longtail discovery will have its own production center, as Exxon's next project, with Tilapia serving as a subsea tieback. By Rystad Energy's estimates, this project would target 998 million barrels.
Notably, Rystad Energy had assumed that the Snoek discovery would be developed with its own FPSO. However, ExxonMobil's addition of Snoek to the Uaru project underscores recent plans put forward by ExxonMobil Chair and Chief Executive Officer, Darren Woods, that the company would work assiduously to maximise costs by targeting larger developments.
Meanwhile, the partners are committed to unlocking more resources, with plans to drill more than 60 exploration wells in the Stabroek Block by 2028.
Exxon is the operator of the Stabroek Block with a 45% stake, while Hess and CNOOC hold 30% and 25% respectively.