Theophilus Nyamko Ahwireng, former Chief Executive Officer of the National Petroleum Commission of Ghana delivered a well-received presentation on resource management, governance and sustainable development of the oil and gas sector to a packed audience in Georgetown, Guyana, on Monday.
The presentation, which outlined the experiences Ghana faced over 100 years of exploration, and the aftermath of the 2007 Jubilee oil discovery off the country's coast, touched on the raft of legislation, regulatory framework and institutions the African country had to put in place for the new industry.
Much like its South American counterpart across the Atlantic Ocean, Ghana's first oil discovery at Jubilee came in the year of its 50th Independence Anniversary, heralding much hope and plans for a brighter future for the country's 28.21 million people.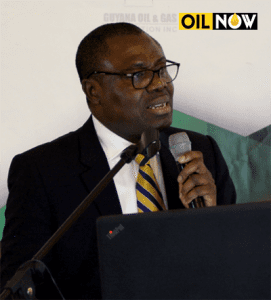 The Jubilee field – the largest offshore oil discovery in West Africa over the last decade – kicked off a new era for Ghana's energy sector. It broke a record for a major offshore oil development at the time, achieving oil extraction within only three and a half years.
The Jubilee discovery also sparked a massive staking rush and tons of industry spending in the area from the biggest names in the business. Between Ghana, Cote D'Ivoire, Senegal, Sierra Leone and Liberia, a veritable who's who list of mid-sized, major, and super majors appeared. These included companies such as Anadarko, Repsol, Chevron, Exxon, ConocoPhillips, Total, Hess and several others.
"I must say the Jubilee discovery stimulated a lot of activities, not only in Ghana, but along the whole of the West African margin when a number of discoveries were made in these other countries and within Ghana 25 other discoveries were made as well," Ahwireng said.
Jubilee and its aftermath mirror the Liza discovery in Guyana, which, since its announcement in 2015 by US supermajor ExxonMobil, in partnership with Hess and Nexen, several other companies have ramped up interest and operations off the Guyana coast, as well as in neighbouring Suriname, in search of a Liza look-alike.
Following first oil in 2010, Jubilee by mid-2017 had already produced 200 million barrels of oil and around 52 billion cubic feet of natural gas.
Ghana has also established a national gas company and oil refinery as part of a number of projects and measures that have been put into place in the country's oil and gas sector. These developments attracted a number of questions from participants at Monday's presentation as well as how the African country treats with the disclosure of petroleum contracts and issues of corruption.
Ahwireng said the refinery, with a maximum capacity of 30,000 barrels per day, can no longer meet the growing demand in Ghana, as a result of which, finished petroleum products are being imported to the country.
Touching on contract disclosures, he said a new provision in Ghana's exploration and production law allows for the establishment of a Petroleum Register which should contain key elements of the agreements. "The Petroleum Register basically is supposed to put out all the key elements that one would like to know in the Register for information of the public," he said.
Ahwireng is a geophysicist and a leader in natural resource governance. He has had extensive and progressive technical, management and business responsibilities across the Upstream Petroleum Industry (UPI) value chain.
The lecture was organized by the Guyana Oil and Gas Association (GOGA). Among those in attendance were the country's Ministers of Natutral Resources, Business, Public Infrastructure, oil and gas advisers and a number of company and civil society representatives as well as members of the public.