Dutch floater specialist SBM Offshore is the only company in the world to deliver floating production storage and offloading (FPSO) vessels with capacity above 120,000 barrels per day, on time, in the last five years.
The company's world-class performance is responsible for Guyana achieving first-oil ahead of schedule back in December 2019, following the delivery of the Liza Destiny FPSO, on contract with ExxonMobil for its Liza Phase 1 Development. Liza Phase 1 was said to be the fastest production ramp up at the time for a deepwater project in history. This key milestone followed a record turnaround time of just over 20 months for construction of the Destiny.
SBM Offshore project portfolio at record level with multiple Guyana FPSOs in play
Then in October 2021, the company delivered its second Guyana FPSO – the Liza Unity – now producing oil at the prolific Stabroek Block.  The Unity is the company's first FPSO to be built under its Fast4Ward® programme and the first FPSO in the world to be awarded the SUSTAIN-1 notation.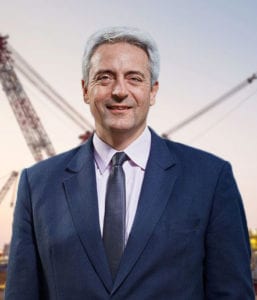 "Over the last five years, only two complex FPSOs with an oil production capacity of more than 120,000 barrels per day were delivered on time," said Bruno Chabas, SBM Offshore's Chief Executive Officer. "Both of these were done by SBM Offshore."
The CEO said the company's unmatched performance and reliability requires discipline and experience, including in execution, combined with strong project management and focus.
"The industry average delay in execution for delivering FPSOs was under two years with some units experiencing more significant delays," Chabas said, pointing out that delays have a massive impact on client economics. "…close to $1 billion in an NPV — in NPV at $50 per barrel, and double that at today's price."
SBM Offshore's global fleet will have a total production capacity of close to three million barrels of oil per day when projects currently under construction are finalized.
'One Guyana' FPSO takes SBM Offshore's order book to record US$31.1B – CEO
The Liza Destiny and Unity FPSOs are now producing a combined 360,000 barrels of oil per day. Two more vessels are currently under construction by SBM Offshore for Exxon's Guyana operations – the Prosperity and One Guyana FPSOs.